Small forwards among Nellie's biggest challenges
Updated:
August 30, 2006, 12:41 PM ET
By
John Hollinger
| ESPN Insider
Can it be? Is Nellie really going back to the Warriors? I've pinched myself three times and haven't woken up in a puddle of drool yet, so apparently it's really happening. Certainly, the Golden State Warriors had nothing to lose by bringing Don Nelson back. His former team has fallen on hard times since he left, missing the playoffs 12 straight times since they whacked him in 1995.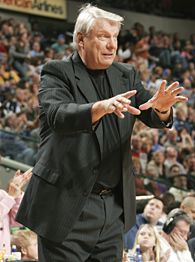 Glenn James/NBAE via Getty ImagesDon Nelson will now lay his hands on an ailing franchise.
But bringing the 66-year-old Nelson out of quasi-retirement isn't going to be a panacea. His departure over a decade ago left some hurt feelings, and the first question on everyone's mind (OK, technically it's the second one, right after, "Couldn't they have done this four months ago?") is whether Nelson and owner Chris Cohan have really buried the hatchet. Cohan sued Nelson after he left and the case took years to resolve. Of course, Cohan has sued so many other people since then -- including another former coach, Rick Adelman -- that he probably forgot about the Nelson suit a long time ago. If he can deal with the ownership, Nelson has shown he can handle the locker room. Although he's never taken a team to the Finals, he's had extended runs of success with three different franchises: 10 years in Milwaukee, six years in Golden State and seven years in Dallas. Moreover, he's been at the forefront of several of the game's best innovations -- think of his using Paul Pressey as a "point forward" in Milwaukee, or his smallball lineups in Golden State, or his taking a chance on an unknown German named
Dirk Nowitzki
in Dallas. Not all of his tricks caught on -- as far as I know, Manute Bol is still the only 7-6 center to be employed as a 3-point specialist -- but his experiments produce many more successes than failures. The hope in Golden State is that Nellie's creative genius can end the Warriors' lottery run, but his road to success is littered with obstacles. Here are some of the most important questions Nellie must answer if his second tour of duty by the Bay will be as successful as his first:
To continue reading this article you must be an Insider
Insider
THE RETURN OF NELLIE
Don Nelson is back. Nellie will take over the Golden State Warriors again and try to get them back to the playoffs for the first time since 1994-95 season. Which was the last full year they were coached by ... Don Nelson.
• Nellie vows to recapture 'the magic'
• Nellie's back in the Golden State

• Stein: Warriors try golden oldie
• Stein: Expect playoff berth this year
• Kreidler: Shaky foundations
• Hollinger: Challenges are many

• Bucher: Don of a new age

• SportsNation poll: Can Nellie turn things around?
• Vitale: Montgomery's college prospects



MOST SENT STORIES ON ESPN.COM