Commentary
D.R.A.F.T. Initiative: Ranking the drafts
Over the past 20 years, not all NBA drafts have been created equal
Updated:
June 22, 2009, 4:59 PM ET
By
Eric Neel
| ESPN.com
Don't be fooled by the somewhat nerdy attention we here at Insider devote to the NBA draft: It is not an exact science. It's an annual exercise in supposition, conjecture and hope, a high-stakes top-10 (okay, top-60) list arrived at by way of equal measures wisdom and whim.
To continue reading this article you must be an Insider
Insider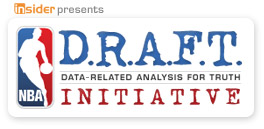 In the lead-up to the NBA draft on June 25, Insider digs deep with the D.R.A.F.T. Initiative. Make sure to check out our hubs for pick-based and team-based analysis, as well as the methodology behind our research.
THE D.R.A.F.T. INITIATIVE
MORE DRAFT COVERAGE

MOST SENT STORIES ON ESPN.COM