Commentary
D.R.A.F.T. Initiative: Hype anxiety
Expectations for the draft are overblown. It makes savvy picking even more critical
Originally Published:
June 2, 2009
By
Luke Cyphers
| ESPN The Magazine
When the NBA draft started more than 50 years ago, it was like a bare-knuckles fight -- there was no limit on the number of rounds, allowing teams to draft players for as long as they could stand, including a record 21 rounds in 1960.
Times change. Since then, the draft has been shrunk (to 10 rounds by the mid-1970s) and downsized (to seven in 1985) and desiccated (to the current two rounds in 1989). Obviously, drafts can change the course of league history (see: Magic Johnson, Michael Jordan), and every year on draft night, we like to point and stare at the big suits and the Big Suit.
But Insider's D.R.A.F.T. Initiative (Data-Related Analysis For Truth) crew has been poring over draft data for months, analyzing draft picks and their subsequent careers, and we've arrived at a surprising conclusion: The NBA draft isn't that big a deal. That's because, in any given year, there isn't enough talent to give many teams any hope of landing a star, let alone a reliable backup.
To get deeper into the ideas of the D.R.A.F.T Initiative (educating yourself on value and methodology in the process), please sign up for ESPN Insider.

To continue reading this article you must be an Insider
Insider
Luke Cyphers is a former senior writer for ESPN The Magazine.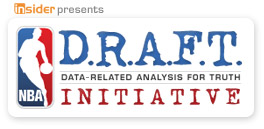 In the lead-up to the NBA draft on June 25, Insider digs deep with the D.R.A.F.T. Initiative. Make sure to check out our hubs for pick-based and team-based analysis, as well as the methodology behind our research.
THE D.R.A.F.T. INITIATIVE
MORE DRAFT COVERAGE

MOST SENT STORIES ON ESPN.COM