D.R.A.F.T. Initiative: Pick-based analysis
Updated:
June 2, 2009, 4:33 PM ET
If there is a guiding principle of the NBA draft, it's the notion of "upside." Teams envision the best-case scenario for every prospect; fans assume players will meet all expectations and comparisons.
To continue reading this article you must be an Insider
Insider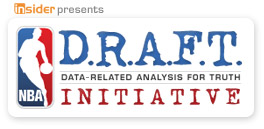 In the lead-up to the NBA draft on June 25, Insider digs deep with the D.R.A.F.T. Initiative. Make sure to check out our hubs for pick-based and team-based analysis, as well as the methodology behind our research.
THE D.R.A.F.T. INITIATIVE
MORE DRAFT COVERAGE

MOST SENT STORIES ON ESPN.COM