Updated:
February 17, 2015, 01:24 PM EST
Chad Ford Mock Draft 3.0
Knicks select Duke's Okafor No. 1 in Chad Ford's projection of 2015 NBA draft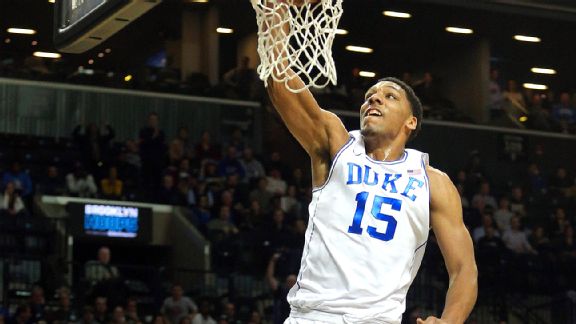 Brad Penner/USA TODAY SportsCould Jahlil Okafor land in New York? The odds are favoring the Knicks.
We are at the unofficial halfway point of the NBA season. As players stumble back from the weeklong vacation known as the All-Star break, we have the clearest picture yet of which teams will be contenders for the NBA title, and which will be contenders for the No. 1 pick.
We also are getting a clearer picture of who the top players in the draft are. Our Big Board has been pretty stable. The top five have been especially firm, with just one addition (D'Angelo Russell) since the start of the college basketball season, and we've had the same guys ranked 5 through 12 for several months, as well.
The mock draft is different, however. In a mock draft, we don't tell you where a player should go, but rather what each team in the draft will likely do with its pick. Obviously, at this point, the order of the teams selecting is not set in stone. The draft order will inevitably change, as will the order of the players. Once the NCAA tournament begins, followed by draft camps and workouts, we'll have an even better feel for each player's pro prospects.
Nevertheless, it's time for our third full mock draft of 2015. It's our best stab at a full first-round mock draft (assuming every eligible prospect who has yet to state his intentions declares for the draft), after taking into account team needs. If you want to see what the Mock would look like if your favorite team won the lottery, check out our Lottery Mock Draft machine..
1
Jahlil Okafor
New York Knicks
Knicks' chances of winning lottery: 25 percent
The Knicks are in bad shape. Very bad shape. They don't have one player on their roster right now, other than Carmelo Anthony, who appears to be a future building block. They need another star, and they need him now. The Knicks also haven't had an All-Star-caliber center since Patrick Ewing. Currently, they don't even have a legit starter at the position. Okafor would be perfect for them. His ability to draw a double-team in the paint and potentially average 20 and 10 every night would give them a viable scoring option besides Anthony jacking up jumpers. If they can use the rest of their roughly $25 million in cap space this summer to add a wing and a young point guard, the Knicks' future will start getting brighter immediately.
2
Karl-Anthony Towns
Minnesota Timberwolves
Timberwolves' chances of winning lottery: 19.9 percent
Andrew Wiggins wins MVP of the Rising Stars Challenge. Zach LaVine wins the Slam Dunk Contest. Ricky Rubio, Shabazz Muhammad and Gorgui Dieng all have bright futures. The Wolves have several other interesting young players such as Anthony Bennett, Adreian Payne and Glenn Robinson III. And don't forget that vets such as Nikola Pekovic and Kevin Martin should have terrific trade value before the trade deadline, and into the summer. Of the teams at the top of the draft, only the Jazz have an equal stockpile of young talent and assets. I can make a case that Flip Saunders should be in the running for Executive of the Year.
The Wolves are going to be a very dangerous team in a couple of years, and adding Towns to the mix would make them even richer in talent. While D'Angelo Russell or Emmanuel Mudiay could also be great options for them, Towns' ability to protect the rim and stretch the floor would make him a valuable weapon in Saunders' arsenal, and would give the Wolves elite size at every position on the floor. The fact that Towns has been playing great of late only adds to the appeal of him going No. 2.