You are signed into Insider
and have access to the exclusive draft content below.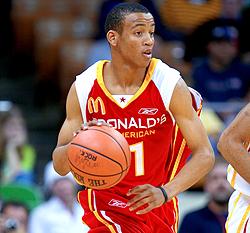 (PG) Monta Ellis - Lainier HS (MS)

Chad Ford's Analysis: Ellis made a bad decision to declare for the draft and hire an agent. Now he's paying for it. He's a dynamic scorer, but questions about his athleticism, maturity and the ability to play the point ended up sinking his stock. He could have answered those questions at Mississippi State. Now he'll really struggle to make the roster at Golden State. It's a great pick for Golden State. For Ellis? Not so much. Thank goodness for the NBDL.

Draft Projection: No. 14 to 45 overall

Similarities: Chauncey Billups

Notes: Ellis averaged 41 ppg, 8 rpg and 7 apg for Lanier High School in Jackson, Miss., his senior season. Ellis had a disappointing eight-point, three-rebound, two-assist performance at the McDonald's All-American game and was torched by a slower, less athletic point guard in Greg Paulus. Ellis threw a small fit after the game claiming that he was misused and underutilized by his coach sending his draft stock into deep freeze. Ellis has declared for the draft and hired Sebastian Telfair's agent Andy Miller.

Positives: Ellis does just about everything well. He's an unbelievable scorer but he is also a good passer with a polished game. He plays with an amazing amount of control for a high school kid. He's also a great shooter with a lightning-quick release. Can be a tenacious defender.

Negatives: Is he really a point guard? Given his size he's going to have to make the jump to full-time point to boost his draft stock. Ellis told Insider that he prefers to play the 2, but he doesn't mind playing point. Not exactly the answer scouts want to hear. Ellis is not an elite athlete, but he's athletic enough to play at a higher level.

Summary: Who knows. There's been zero buzz about Ellis and now most scouts are conceding that he's not a point guard. After he tested so poorly athleticially in Chicago, the second round sounded like a forgone conclusion. However, a number of GMs have told Insider they believe Ellis has a promise somewhere in the mid-first round. No one, however, seems to have a clue where it is.