Who's better: Cormier or Overeem?
Two talented heavyweights do battle in our side-by-side analysis
Updated:
May 23, 2013, 12:59 PM ET
By
TR Foley
| ESPN Insider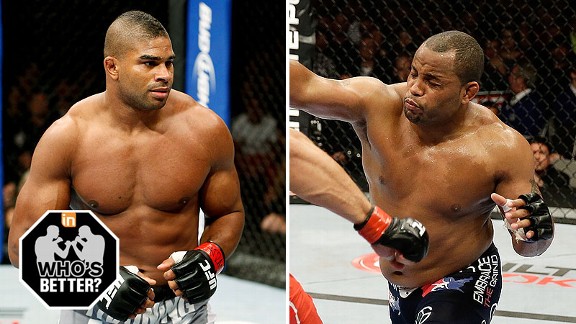 Getty ImagesAlistair Overeem and Daniel Cormier offer a contrast of styles and attitude.
Welcome to Insider's "Who's Better?" feature, a side-by-side breakdown of fights UFC fans most want to see. ESPN Insider T.R. Foley breaks down the fighters to determine who's better.
With UFC 161 now absorbing the talents of Roy "Big Country" Nelson for use against Stipe Miocic, there is plenty of talk of what's next for the weight division's remaining top-five talents, Daniel Cormier and Alistair Overeem.
This week's main event at UFC 160 features two fighters closely related to Cormier and Overeem. Cormier's friendship with training partner and current UFC heavyweight champion Cain Velasquez makes him subject to constant speculation about a move down to light heavyweight. But the two-time Olympian said he will fight at least once more at heavyweight.
Meanwhile, Overeem's last fight ended in a knockout loss to Antonio Silva. He's had a lengthy layoff since that fight, but he likely will be paired with another top-five talent upon his return to the Octagon. A couple of wins and perhaps he's back in title contention.
So it's a heavyweight weekend, which leads us to ask the question: Who's better, Cormier or Overeem?
To read T.R. Foley's full breakdown of Daniel Cormier and Alistair Overeem, become an Insider today.
Insider
All-American wrestler, University of Virginia
MS, Journalism, Columbia University
MMA Insider: Must reads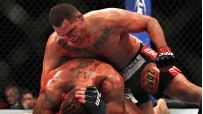 In case you missed them, here are some must reads articles from MMA Insider.
Who's Better?
Foley: Jose Aldo vs Ben Henderson Read
Foley: Jon Jones vs Cain Velasquez Read
Foley: Georges St-Pierre vs Anderson Silva Read
Top 10s
Bold MMA predictions Read
Fights that must happen Read
Challengers for Jon Jones Read
All-time champs Read
Fighters on UFC bubble Read
Pro athletes in MMA Read
Non-UFC fighters Read
Ex-Strikeforce fighters Read
MMA10
MMA10: All-Time Middleweights Read
MMA10: All-Time Light Heavyweights Read
MMA10: Overrated/Underrated fighters Read overrated or underrated
MMA10: All-Time Heavyweights Read
MMA10: Finishers Read
MMA10: Comeback fighters Read
MMA10: Top strikers Read
MMA10: Top wrestlers Read
Good reads
NFL? NBA? MMA?: Which non-MMA athletes might make good fighters? Read
Building the perfect fighter: T.R. Foley creates the ultimate 'Frankenfighter' who could beat Jon Jones. Read
MOST SENT STORIES ON ESPN.COM