Ten bold MMA predictions
A new middleweight champion? No New York? Peer into the MMA crystal ball
Updated:
May 23, 2013, 9:59 AM ET
By
Adam Hill
| ESPN Insider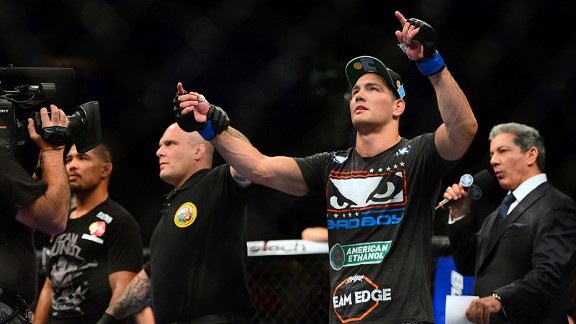 Kyle Terada/US PresswireOn July 10, Chris Weidman will have his hand raised in victory over Anderson Silva, predicts Adam Hill.
Unless your name is Nate Silver, predicting future events is always a tricky proposition. Nobody knows the future, and in the utterly chaotic world of mixed martial arts, prognostication is even more difficult.
However, we will take a crack at it this week as we make 10 bold predictions regarding the world of MMA.
Mind you, these are opinions based on reporting and developing news -- as well as intuition after the covering the sport for nearly a decade. Some of the following predictions might seem more realistic or outlandish than others. Regardless, they should all create discussion among readers. Be sure to let us know your predictions in the comment section below.
---
1. "Winner and neeeeewww middleweight champion..."
Weidman
It has been an awfully long time since Bruce Buffer stood in the middle of the octagon and uttered this phrase. In fact, the last time he said it was Oct. 14, 2006, when Anderson Silva took the belt from Rich Franklin. Buffer might want to start practicing it.
To read more of Adam Hill's 10 bold predictions for MMA, become an Insider today.
Insider
MMA Insider: Must reads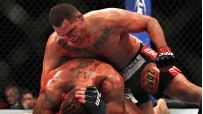 In case you missed them, here are some must reads articles from MMA Insider.
Who's Better?
Foley: Jose Aldo vs Ben Henderson Read
Foley: Jon Jones vs Cain Velasquez Read
Foley: Georges St-Pierre vs Anderson Silva Read
Top 10s
Bold MMA predictions Read
Fights that must happen Read
Challengers for Jon Jones Read
All-time champs Read
Fighters on UFC bubble Read
Pro athletes in MMA Read
Non-UFC fighters Read
Ex-Strikeforce fighters Read
MMA10
MMA10: All-Time Middleweights Read
MMA10: All-Time Light Heavyweights Read
MMA10: Overrated/Underrated fighters Read overrated or underrated
MMA10: All-Time Heavyweights Read
MMA10: Finishers Read
MMA10: Comeback fighters Read
MMA10: Top strikers Read
MMA10: Top wrestlers Read
Good reads
NFL? NBA? MMA?: Which non-MMA athletes might make good fighters? Read
Building the perfect fighter: T.R. Foley creates the ultimate 'Frankenfighter' who could beat Jon Jones. Read
MOST SENT STORIES ON ESPN.COM