Who's better: Henderson or Aldo?
The reigning UFC champions do battle in our side-by-side analysis
Updated:
May 9, 2013, 3:29 PM ET
By
TR Foley
| ESPN Insider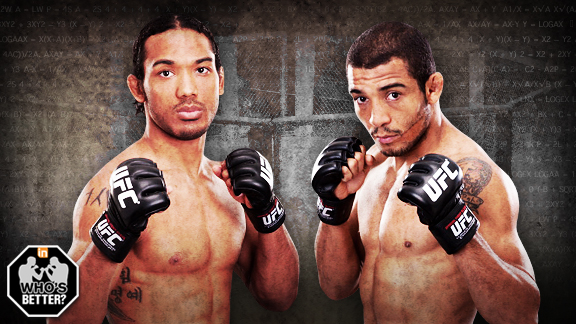 ESPN.com IllustrationBoth Ben Henderson and Jose Aldo love leg strikes, but who's better?
Welcome to Insider's "Who's Better?" feature, a side-by-side breakdown of fights UFC fans most want to see. ESPN Insider T.R. Foley breaks down the fighters to determine who's better.
Lightweight champion Benson Henderson and featherweight champ Jose Aldo are two of the most popular fighters in mixed martial arts.
In their most recent fights, Aldo dispatched Frankie Edgar by unanimous decision in February at UFC 156, and Henderson beat Gilbert Melendez in a split-decision victory in April during UFC on Fox 7.
Although the two fight in different weight classes, Aldo has hinted at a jump in competition. Should Aldo beat top contender Anthony Pettis at UFC 163 in August, there's a real chance these two champs could soon meet in the Octagon.
If you enjoy leg strikes, an Aldo versus Henderson fight would be your superfight of the century. Fast, strong and with a laser focus on the thighs of their opponents, Aldo and Henderson enjoy risking little to earn big points in close matches. However, both fighters have other skills they have used to dispatch opponents in the past: Aldo's speed, Henderson's wrestling and their shared athleticism make their potential matchup difficult to prognosticate.
ESPN's SportsNation recently asked fans which superfights they'd want to see, and No. 4 was Henderson versus Aldo. So who's better? Let's answer that question by evaluating and comparing five general skill areas.
To read T.R. Foley's breakdown of Benson Henderson and Jose Aldo, become an Insider today.
Insider
All-American wrestler, University of Virginia
MS, Journalism, Columbia University
MMA Insider: Must reads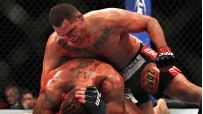 In case you missed them, here are some must reads articles from MMA Insider.
Who's Better?
Foley: Jose Aldo vs Ben Henderson Read
Foley: Jon Jones vs Cain Velasquez Read
Foley: Georges St-Pierre vs Anderson Silva Read
Top 10s
Bold MMA predictions Read
Fights that must happen Read
Challengers for Jon Jones Read
All-time champs Read
Fighters on UFC bubble Read
Pro athletes in MMA Read
Non-UFC fighters Read
Ex-Strikeforce fighters Read
MMA10
MMA10: All-Time Middleweights Read
MMA10: All-Time Light Heavyweights Read
MMA10: Overrated/Underrated fighters Read overrated or underrated
MMA10: All-Time Heavyweights Read
MMA10: Finishers Read
MMA10: Comeback fighters Read
MMA10: Top strikers Read
MMA10: Top wrestlers Read
Good reads
NFL? NBA? MMA?: Which non-MMA athletes might make good fighters? Read
Building the perfect fighter: T.R. Foley creates the ultimate 'Frankenfighter' who could beat Jon Jones. Read
MOST SENT STORIES ON ESPN.COM