Who's better: Jones or Velasquez?
Two of UFC's top heavyweight fighters do battle in our side-by-side analysis
Originally Published:
April 11, 2013
By
TR Foley
| ESPN Insider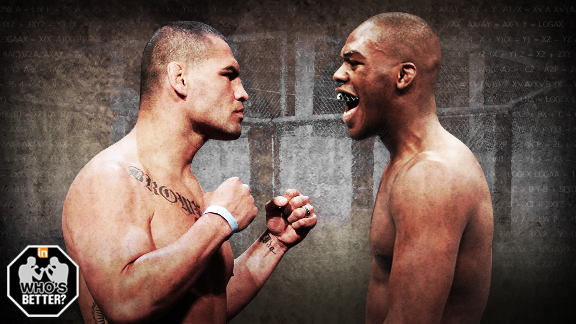 ESPN.com Illustration - Mike FaccioloIt's the battle of the big boys -- Cain Velasquez versus Jon Jones. Who's better?
Welcome to Insider's "Who's Better?" feature, a side-by-side breakdown of fights UFC fans most want to see. ESPN Insider T.R. Foley breaks down the fighters to determine who's better.
Just five years ago, Jon Jones was competing in small regional MMA shows. Today, he's in the conversation as one of the all-time best to compete in combat sports. Jones is a heavily motivated individual. His desire to be recognized as an all-time great has him flirting with a move from light heavyweight to heavyweight -- long the dominion of the world's most compelling fighters. Indeed, it's an interesting wrinkle for what is shaping up to be a hall of fame career.
To move to heavyweight, the thin-legged Jones (hence his nickname "Bones") would have to bulk up his 225-pound frame. Considering his family genetics -- both of his older brothers are NFL linemen -- that should prove an easy task.
What will be infinitely more difficult is defeating his prospective opponent, current UFC heavyweight champion Cain Velasquez. The prize pupil of American Kickboxing Academy in San Jose, Calif., Velasquez re-established his dominance and promotional relevance within the UFC after demolishing Junior dos Santos, the man who originally took the title from him. Velasquez is a heavy hitter free of the midsection girth of most heavyweight fighters. Like Jones, he's also a top-level wrestling talent.
Both are heavy favorites in their upcoming fights -- Jones battles Chael Sonnen at UFC 159 while Velasquez faces Antonio Silva at UFC 160. But what if they were to face each other?
ESPN SportsNation asked fans which superfights they'd want to see, and No. 3 was Jones versus Velasquez. So who's better? Let's answer that question by evaluating and comparing five general skill areas.
To read T.R. Foley's breakdown of Jon Jones and Cain Velasquez, become an Insider today.
Insider
All-American wrestler, University of Virginia
MS, Journalism, Columbia University
MMA Insider: Must reads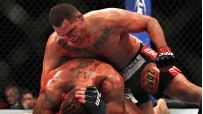 In case you missed them, here are some must reads articles from MMA Insider.
Who's Better?
Foley: Jose Aldo vs Ben Henderson Read
Foley: Jon Jones vs Cain Velasquez Read
Foley: Georges St-Pierre vs Anderson Silva Read
Top 10s
Bold MMA predictions Read
Fights that must happen Read
Challengers for Jon Jones Read
All-time champs Read
Fighters on UFC bubble Read
Pro athletes in MMA Read
Non-UFC fighters Read
Ex-Strikeforce fighters Read
MMA10
MMA10: All-Time Middleweights Read
MMA10: All-Time Light Heavyweights Read
MMA10: Overrated/Underrated fighters Read overrated or underrated
MMA10: All-Time Heavyweights Read
MMA10: Finishers Read
MMA10: Comeback fighters Read
MMA10: Top strikers Read
MMA10: Top wrestlers Read
Good reads
NFL? NBA? MMA?: Which non-MMA athletes might make good fighters? Read
Building the perfect fighter: T.R. Foley creates the ultimate 'Frankenfighter' who could beat Jon Jones. Read
MOST SENT STORIES ON ESPN.COM