UFC 155: Dos Santos-Velasquez
Finding betting value in all of the UFC 155 fights
Originally Published:
December 27, 2012
By
John Candido
| FightMetric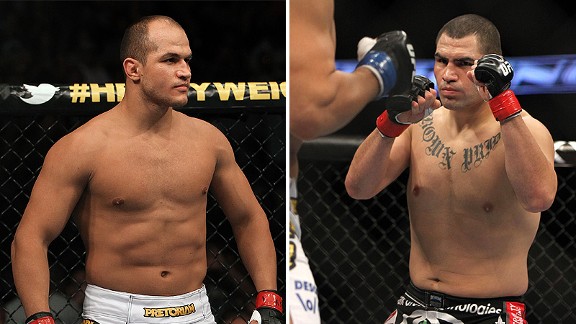 Getty ImagesJunior dos Santos and Cain Velasquez take center stage at UFC 155.
In one of the most anticipated rematches in the history of the UFC, two of the best pound-for-pound fighters in the sport will be facing off again on one of the best UFC cards of the year. This time it will be heavyweight champion Junior dos Santos defending his title against contender (and previous belt holder) Cain Velasquez. Given the multidimensional skill sets of each fighter and the endless speculation about how this fight could be different from the first match, we'll dive into the stats behind this marquee matchup to see where the value is in this line and others for UFC 155.
---
While most of the attention heading into this event will be on Dos Santos' undefeated run in the UFC, culminating in the heavyweight title via knockout of Cain Velasquez in their first fight, what few will be aware of are the unrivaled statistics that Velasquez has put up in every fight other than his single career loss to Dos Santos.
To read where you can find betting value in UFC 155, sign up for ESPN Insider.
Insider
MMA Insider: Must reads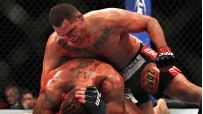 In case you missed them, here are some must reads articles from MMA Insider.
Who's Better?
Foley: Jose Aldo vs Ben Henderson Read
Foley: Jon Jones vs Cain Velasquez Read
Foley: Georges St-Pierre vs Anderson Silva Read
Top 10s
Bold MMA predictions Read
Fights that must happen Read
Challengers for Jon Jones Read
All-time champs Read
Fighters on UFC bubble Read
Pro athletes in MMA Read
Non-UFC fighters Read
Ex-Strikeforce fighters Read
MMA10
MMA10: All-Time Middleweights Read
MMA10: All-Time Light Heavyweights Read
MMA10: Overrated/Underrated fighters Read overrated or underrated
MMA10: All-Time Heavyweights Read
MMA10: Finishers Read
MMA10: Comeback fighters Read
MMA10: Top strikers Read
MMA10: Top wrestlers Read
Good reads
NFL? NBA? MMA?: Which non-MMA athletes might make good fighters? Read
Building the perfect fighter: T.R. Foley creates the ultimate 'Frankenfighter' who could beat Jon Jones. Read
MOST SENT STORIES ON ESPN.COM