Betting UFC 154: St-Pierre-Condit
Finding betting value in all the UFC 154 fights
Originally Published:
November 15, 2012
By
John Candido
| FightMetric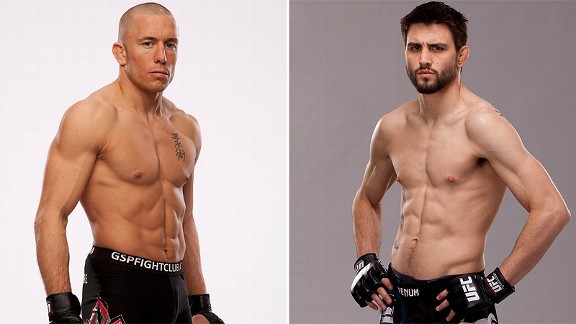 Jim Kemper/Getty ImagesCan Georges St-Pierre shake off the ring rust to defeat interim champ Carlos Condit?
UFC 154 features one of the most compelling fights we've seen in some time. Just four times in the UFC's history has a champion faced an interim champion to unify the title. In this case, one of the greatest pound-for-pound fighters in the world, Georges St-Pierre, will be returning from a long rehabilitation following knee surgery to face interim champ Carlos Condit.
Will St-Pierre be the same dominant champion in his return, or will ring rust from nearly a year's layoff be a factor? I'll consider how this affects the odds and take a look at the numbers behind the fights to see if there are some value bets for Saturday night's card.
---
To read where you can find betting value in UFC 154, sign up for ESPN Insider.
Insider
MMA Insider: Must reads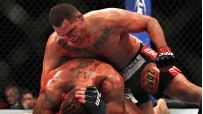 In case you missed them, here are some must reads articles from MMA Insider.
Who's Better?
Foley: Jose Aldo vs Ben Henderson Read
Foley: Jon Jones vs Cain Velasquez Read
Foley: Georges St-Pierre vs Anderson Silva Read
Top 10s
Bold MMA predictions Read
Fights that must happen Read
Challengers for Jon Jones Read
All-time champs Read
Fighters on UFC bubble Read
Pro athletes in MMA Read
Non-UFC fighters Read
Ex-Strikeforce fighters Read
MMA10
MMA10: All-Time Middleweights Read
MMA10: All-Time Light Heavyweights Read
MMA10: Overrated/Underrated fighters Read overrated or underrated
MMA10: All-Time Heavyweights Read
MMA10: Finishers Read
MMA10: Comeback fighters Read
MMA10: Top strikers Read
MMA10: Top wrestlers Read
Good reads
NFL? NBA? MMA?: Which non-MMA athletes might make good fighters? Read
Building the perfect fighter: T.R. Foley creates the ultimate 'Frankenfighter' who could beat Jon Jones. Read
MOST SENT STORIES ON ESPN.COM