Stanton's Marlins Park effect
A career in Miami could cost the young slugger a Hall of Fame career
Updated:
May 10, 2012, 12:08 PM ET
By
Dan Szymborski
| Baseball Think Factory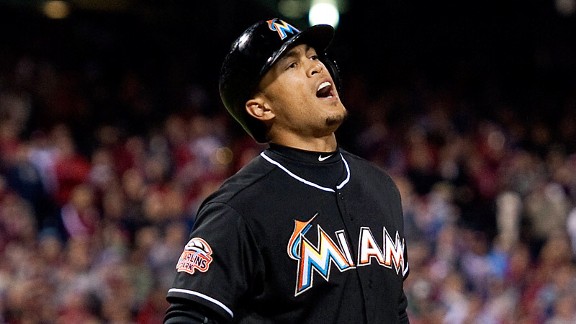 Howard Smith/US PresswireMarlins Park is still new, but one wonders how many homers it could cost Giancarlo Stanton.
After a very slow April, Miami Marlins right fielder Giancarlo Stanton has done his best to make up for his missing power, hitting all six of his homers to date in the past 10 games. Still, with Marlins Park earning a quick reputation for being a hard place to hit homers -- even inanimate objects can be subject to first impressions -- and with only one of Stanton's six homers being at home, one at least starts to wonder what effect the Marlins' new home will have on the team's best young slugger.
Whatever you think of team ownership and the vagaries of how stadiums are paid for, the opening of the new park and the team's open wallets represent the start of a new era for the Marlins. Even the names are different, with the "Florida" and "Michael" becoming "Miami" and "Giancarlo." Stanton, still just 21 and already established as one of the premiere pure power hitters in baseball, is probably the best choice to be the face of this new Marlins era.
Hanley Ramirez may still become a superstar, Jose Reyes was deservedly a splashy free-agent signing and Josh Johnson is one of the best pitchers in the game. But despite concerns about chemical enhancement, the public's love affair with the long ball continues, and when Stanton, a true product of the farm system, connects with the ball, he's a better particle accelerator than the Large Hadron Collider, setting him up to be "the guy" in Miami.
So, what kind of park is Miami's new digs and what effects will it have on Stanton's bottom-line numbers?
To see just how many home runs the Marlins' park could cost Stanton, and how it might hinder a Hall of Fame career, become an ESPN Insider.
Insider
Creator of ZiPS projection system
Founder of Baseball Think Factory
MLB on ESPN.com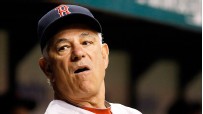 VALENTINE FIRED

MOST SENT STORIES ON ESPN.COM