Finding this year's D-backs
Three clubs with potential to shock the baseball world like Arizona did in 2011
Updated:
April 4, 2012, 6:50 PM ET
By
Ben Lindbergh
| Baseball Prospectus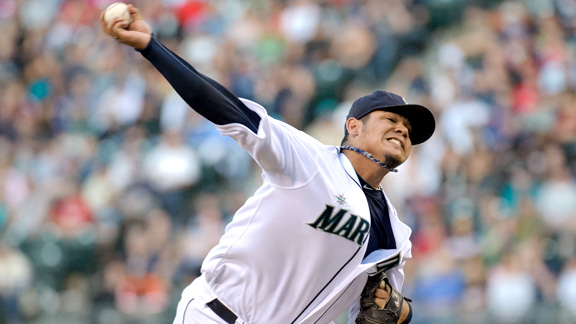 Steven Bisig/US PresswireThe American League West is crowded, but Felix Hernandez gives Seattle a chance against anyone.
On Opening Day of last season, Baseball Prospectus' playoff odds gave the Arizona Diamondbacks a 1.2 percent chance of making the playoffs. Until May 25, their record remained under .500, and their playoff odds were stuck at less than 2 percent. That was when they made their move, morphing into the season's most surprising success. From May 26 through the end of the season, they went 69-44, winning the National League West with eight games to spare.
There's no way anyone could have known that the Diamondbacks would be that good, for the simple reason that they weren't that good. The D-backs had a run-of-the-mill rotation and relief corps, a defense that was no better than decent and a league-average lineup that hit much worse away from Chase Field. However, they also stayed healthy, losing the fewest days to injury of any NL team. Perhaps more importantly, they recorded a league-best 28-16 record in one-run games, which often hinge as heavily on luck as they do on skill. As a result, the D-backs outplayed their third-order winning percentage -- an expected record based on underlying statistics and adjusted for quality of opponents -- by 10.5 games, the biggest margin in baseball.
We can't predict which teams will enjoy good fortune in 2012, but we can try to pinpoint a few clubs that could be unlikely contenders if the balls bounce their way. This year, five teams have playoff odds at less than 2 percent as of Opening Day. There probably won't be another 2011 D-backs in the bunch, but the following three teams are the best candidates to take a surprising step forward.
Kansas City Royals (Projected record: 68-94, Playoff odds: 0.3 percent)

Kansas City's position players are projected to be the youngest in the American League by almost a year and a half, with a collective age of 26.2. Most likely, that means they're still too raw to contend. However, their youth allows us to dream: If the Royals' mix of former high draft picks and top prospects matures more quickly than expected, they could make great strides as soon as this season.
To read the full story, plus get all of ESPN Insider's daily MLB content, sign up today and become an Insider.
Insider
Ben Lindbergh is the editor-in-chief of Baseball Prospectus. He has interned for multiple MLB teams and is a member of the BBWAA.
Spring Fever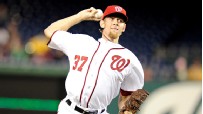 Stephen Strasburg is at the center of any conversation about the 2012 season ... and beyond.
Future Power Rankings
Buster, Bowden and Law break down how well your team is set up for the future.
Part 1: No. 30-21
Part 2: No. 20-11
Part 3: No. 10-1
Audio: Shocks and surprises
Future Power Rankings methodology
Keith Law's top prospects
Features
March 30:
Szymborski: AL standings
|
NL
March 29:
BP: Four fading Phillies
March 27:
Szymborski: Five non-flukes
March 26:
Cameron: Top 500's underachievers
March 23:
Cameron: Will Strasburg be the same?
March 22:
BP: Smoak underrated by Safeco
March 21:
Szymborski: The next Bautista
March 19:
Cameron: Controlling Bryce's price
March 15:
Goldstein: Prospects making waves
March 15:
BP: Who's starting the wrong guy?
March 12:
Cameron: Tribe's nasty rotation
March 10:
Lindbergh: Sale a good bet to succeed

MOST SENT STORIES ON ESPN.COM