Commentary
The price of moving to third
The Tigers, Marlins and Angels improved their lineups, but at what defensive cost?
Updated:
February 6, 2012, 11:01 AM ET
By
Dave Cameron
| FanGraphs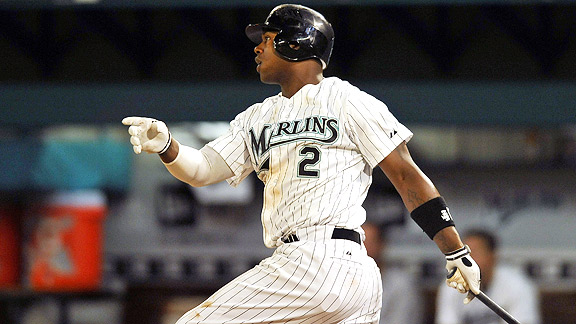 Steve Mitchell/US PresswireThe Marlins hope Hanley Ramirez's bat outweighs a potential defensive hit at third base.
After getting mostly ignored by the Baseball Writers' Association of America, Ron Santo was finally elected to the Baseball Hall of Fame by the Veterans Committee this summer. Santo's enshrinement was a victory for those who had championed his case for years, and it suggested that perhaps even the folks in Cooperstown were coming around to the growing appreciation for the value of defense at the offensive-oriented corner positions.
Just a few months after his election, however, several clubs have apparently decided that quality defense at third base is a luxury item after all.
The Detroit Tigers have gotten the most coverage for their decision to move Miguel Cabrera back across the diamond to a position he was deemed too big to play back in 2008. However, the Los Angeles Angels are also toying with the idea of giving first baseman Mark Trumbo some playing time at the hot corner after he was displaced by the signing of Albert Pujols, and the Miami Marlins acquired Jose Reyes, which means that Hanley Ramirez -- never known for his defense to begin with -- will grudgingly move over to third base.
In all three cases, a team with hopes of contention in 2012 is showing some willingness to sacrifice glove work at third base in order to upgrade its offense. There's no doubt that Pujols, Fielder and Reyes will help their new teams win more games, but just how bad might we expect the new third basemen to be, and would these teams be better off just abandoning the experiment and finding another way to get those bats in the lineup?
To read all of ESPN Insider's MLB content, including Buster Olney's morning blog and Keith Law's prospect analysis, become an Insider today.
Insider
Managing editor of FanGraphs
Founder of U.S.S. Mariner
Also contributes to Wall Street Journal
Offseason Buyer's Guide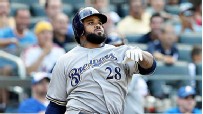 Prince Fielder headlines the 2011 free agent class, but who are the other players who could be changing teams this winter?
Rankings
Nov. 3:
Law: Top 50 free agents
|
Tracker
Nov. 4:
Bowden: Projected value rankings
Reaction
Jan. 25:
Bowden: How Detroit landed Prince
Jan. 24:
Law: Fielder helps now, not later
Jan. 14:
Bowden: Grading Yankees-M's deal
Jan. 13:
Law: Pineda-Montero deal a win-win
Jan. 11:
Law: Madson a steal for Reds
Jan. 6:
Law: Cubs win Cashner-Rizzo deal
Dec. 31:
Law: Quentin a mediocre fit in S.D
Buyer's Guide
Nov. 12:
Buyers Guide: Catchers
Nov. 11:
Buyers Guide: Relief Pitchers
Nov. 10:
Buyers Guide: Starting Pitchers
Nov. 9:
Buyers Guide: Third basemen
Nov. 8:
Buyers Guide: Outfielders
Nov. 7:
Buyers Guide: Middle infielders
Nov. 4:
Buyers Guide: First basemen/DH
Features
Feb. 9:
Perry: A case for the Nats
Feb. 7:
Szymborski: Ellsbury to fall off
Feb. 6:
Cameron: The cost of moving to third
Feb. 3:
Meyers: Poor drafts doom Cubs, Mets
Feb. 2:
Bowden: How to rebuild the Orioles
Feb. 1:
Goldstein: How good is Cespedes?
Jan. 30:
Szymborski: Projecting Angels, Tigers
History
•
Law: 2010 top 50 rankings
•
Law: 2009 top 50 rankings
•
Law: 2008 top 50 rankings
•
Law: 2007 top 50 rankings
•
Law: 2006 top 40 rankings

MOST SENT STORIES ON ESPN.COM