Commentary
Top 50 MLB players age 25 or under
Ranking the best young big leaguers in the game today, starting with Justin Upton
Updated:
December 1, 2011, 1:18 PM ET
By
Keith Law
| ESPN Insider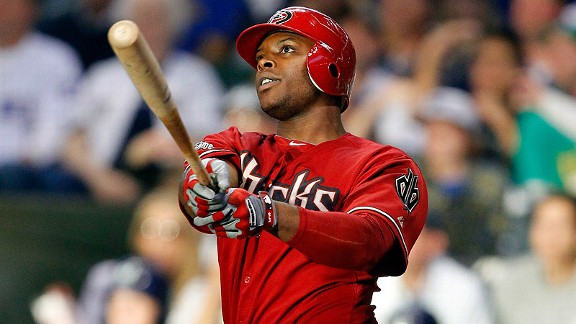 AP Photo/Jeffrey PhelpsJustin Upton, who finished fourth in the NL MVP voting, is just scratching the surface of his talent.
In September, my colleague Bill Simmons, (who has his own site to play with now) suggested to me on his podcast that I rank the top 50 MLB players age 25 and under for 2012. Listeners were enthusiastic about the idea, so here it is.
This ranking only includes players who have lost their Rookie of the Year eligibility, but were born on or after July 1, 1986. (That's the cut-off for a player's seasonal age.) That means that rising prospects (such as Bryce Harper) are not represented on this list -- they will be ranked in our annual Prospect Rankings, coming in mid-January.
I've ranked these players with an eye towards their peak rather than short-term value, and without regard to contracts, service time, or scheduled free agency. Therefore, you will see some players on here who were good in 2011 ranked below players who weren't so good, an indication that I like the next six years (roughly) from the second group more than I like the next six years from the first. It's subjective, and I even left off players I really like because I ran out of room. Thanks to all of you who've been asking for this list for the last two months -- I hope it meets your expectations.
Note: Ages listed are as of Dec. 1, 2011.


RF
24

Analysis: Upton was an MVP candidate for most of the season until Matt Kemp pulled away in September (and the voters went all retro by deciding the MVP had to be on a playoff team, d'oh). He still has a significant amount of upside left as he continues to get stronger and to refine his approach at the plate. His walk rate slipped in 2011, but he dramatically increased his contact rate, and traded some ground balls (and double plays) for fly balls (and doubles and homers). He's a five-tool player who would probably play center on some clubs, with several 30-homer seasons ahead of him; a .310/.400/.570 peak isn't out of the question.

CF
25

Analysis: McCutchen was headed for stardom in fits and starts before 2011, when he showed improvement across the board, posting career bests in walks and home runs while also having his best defensive year in center. He saw more pitches per plate appearance in 2011, but was also more aggressive when behind in the count; improving in the latter situations would be one key to producing a few monster seasons over the next five years.
He has some of the best wrist acceleration in the game, producing hard line-drive contact and 20-25 home runs in a park that kills right-handed power. He doesn't have the offensive upside of Upton and is slightly older, but adds more defensive value and could explode if he gets to a park better suited to his bat.

RF
22

Analysis: Stanton was the third-youngest regular in the National League in 2011, yet finished fifth in the circuit in home runs while playing in a home park that was never friendly to the longball. He has crazy raw power and it has translated to games from the moment he got into pro ball, which is when the Marlins cleaned up his swing to help him keep his strikeout rate under control.
He's not much of a runner but is otherwise athletic for his size, playing an above-average right field with a solid arm. The improvement in his approach over the past few years coupled with his youth and his enormous power make him a threat to win MVP awards in a couple of seasons.
To see how Keith Law ranks Stephen Strasburg, Neftali Feliz and Desmond Jennings (among others), become an ESPN Insider.
Insider
Offseason Buyer's Guide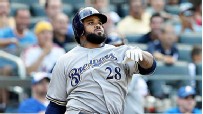 Prince Fielder headlines the 2011 free agent class, but who are the other players who could be changing teams this winter?
Rankings
Nov. 3:
Law: Top 50 free agents
|
Tracker
Nov. 4:
Bowden: Projected value rankings
Reaction
Jan. 25:
Bowden: How Detroit landed Prince
Jan. 24:
Law: Fielder helps now, not later
Jan. 14:
Bowden: Grading Yankees-M's deal
Jan. 13:
Law: Pineda-Montero deal a win-win
Jan. 11:
Law: Madson a steal for Reds
Jan. 6:
Law: Cubs win Cashner-Rizzo deal
Dec. 31:
Law: Quentin a mediocre fit in S.D
Buyer's Guide
Nov. 12:
Buyers Guide: Catchers
Nov. 11:
Buyers Guide: Relief Pitchers
Nov. 10:
Buyers Guide: Starting Pitchers
Nov. 9:
Buyers Guide: Third basemen
Nov. 8:
Buyers Guide: Outfielders
Nov. 7:
Buyers Guide: Middle infielders
Nov. 4:
Buyers Guide: First basemen/DH
Features
Feb. 9:
Perry: A case for the Nats
Feb. 7:
Szymborski: Ellsbury to fall off
Feb. 6:
Cameron: The cost of moving to third
Feb. 3:
Meyers: Poor drafts doom Cubs, Mets
Feb. 2:
Bowden: How to rebuild the Orioles
Feb. 1:
Goldstein: How good is Cespedes?
Jan. 30:
Szymborski: Projecting Angels, Tigers
History
•
Law: 2010 top 50 rankings
•
Law: 2009 top 50 rankings
•
Law: 2008 top 50 rankings
•
Law: 2007 top 50 rankings
•
Law: 2006 top 40 rankings

MOST SENT STORIES ON ESPN.COM