Commentary
Agents of change
Forget the World Series. With Pujols on the open market, the real games will begin.
Updated:
October 21, 2011, 11:47 AM ET
By
Buster Olney
| ESPN The Magazine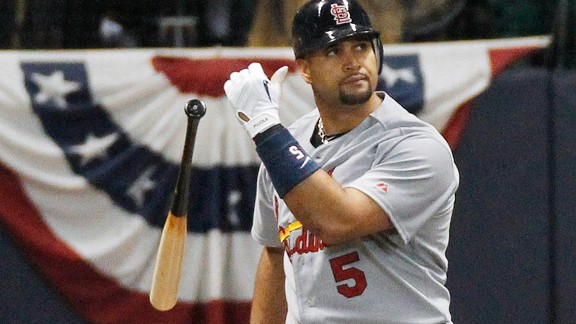 AP Photo/Jeff RobersonThe Cardinals know Albert Pujols is a St. Louis icon, on par with the Gateway Arch.
This story appears in the Oct. 31 issue of ESPN The Magazine.
THE YANKEES KNEW THEY WERE getting Cliff Lee last winter. They had done their homework, prepared an offer that would put a dent in the national debt of Greece and heard from their ace, CC Sabathia -- a friend and former teammate of Lee's in Cleveland -- that he was good to go. But then Darek Braunecker, Lee's agent, started telling the Yankees that Lee had really enjoyed his time with the Rangers. That's when the Bronx Bombers got nervous.
Meanwhile, the Rangers thought they had just as good of a shot at re-signing the 2008 AL Cy Young winner. Then Braunecker told them that Lee needed more time to think. Texas officials kept making trips to Lee's home in Arkansas, and at least one of them felt an emotional stiff-arm from the lefthander. "Looking back on it," says a high-ranking Rangers executive involved in the negotiations, "the agent was just buying time for the Phillies to become an option."
The Yankees were caught off guard when Lee signed with Philadelphia, and they scrambled to sign retreads Bartolo Colon and Freddy Garcia to fill the void. When New York reached the playoffs this season, its rotation depth -- or lack thereof -- was exposed. Without another elite starter behind Sabathia, the Yankees were eliminated in the ALDS. The Rangers, to their credit, took much of the cash earmarked for the lefty and used it on third baseman Adrian Beltre, who cracked 32 homers and played stellar defense in helping Texas return to the ALCS.
To read the full story, as well as receive every issue of ESPN The Magazine, sign up for ESPN Insider.
Insider
Senior Writer, ESPN The Magazine
Senior writer ESPN Magazine/ESPN.com
Analyst/reporter ESPN television
Author of "The Last Night of the Yankee Dynasty"
ESPN The Magazine: October 31, 2011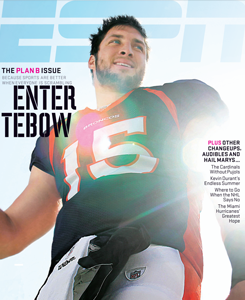 Features
Columns & Go/Play

MOST SENT STORIES ON ESPN.COM