Commentary
Cardinals now NLCS favorites
The ZiPS projection system favors St. Louis while the Tigers' ALCS chances are shrinking fast
Updated:
October 11, 2011, 12:36 PM ET
By
Dan Szymborski
| Baseball Think Factory
After a wet weekend and a Nelson Cruz walk-off grand slam, the first in playoff history, the Detroit Tigers return home for Game 3, soggy and down 2-0 in the American League Championship Series. Coming back from a two-game deficit is difficult, but not impossible. However, winning four of five games against the 96-win Texas Rangers is a tall order.
Just how tall is it? If every game was considered an even matchup, a 50-50 shot, the Tigers would have an 18.75 percent chance to come from behind and advance to the World Series. While those odds aren't terrible -- they are much better than Jose Bautista hitting a home run in any given at-bat -- they're hardly what Tigers fans hoped to see going into Game 3. Give Detroit the benefit of home-field advantage, which historically tends to turn 50-50 games into 54-46 games for the home team, and the Tigers receive a slight bump in their odds to 19.7 percent, due to the extra game at Comerica Park.
However, we know that even between two fairly matched teams, games are not 50-50 affairs. The individual starting pitcher has a great effect on the outcome of a game. The Tigers go into a Justin Verlander start having a lot better odds of winning than when Brad Penny or Rick Porcello takes the hill. Using updated ZiPS projections for the rosters, expected lineups, starting pitchers and reliever performance, I calculated an estimated win expectancy for the Tigers for each remaining game (this also includes the home-field advantage) by the odds ratio.
To see the win expectancy odds for the remaining NLCS and ALCS games, become an ESPN Insider.
ESPN The Magazine subscribers

Need more information?
Creator of ZiPS projection system
Founder of Baseball Think Factory
SPONSORED HEADLINES
MORE MLB HEADLINES
MOST SENT STORIES ON ESPN.COM
Insider MLB Content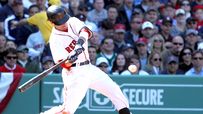 WEEK OF OCT. 30
Nov. 5:
Bowden: Grading the Jim Thome deal
Nov. 5:
Law: Thome, Phillies aren't a great fit
Nov. 4:
Bowden: Pricing the free agents
Nov. 3:
Law: Ranking top 50 MLB free agents
Nov. 2:
Jedlovec: Worst Gold Glove selections
Nov. 1:
Meyers: Buyer beware of C.J. Wilson
Oct. 31:
Cameron: Papi a fit in the Bronx
Oct. 30:
Perry: Finding free agency solutions
Oct. 30:
Szymborski: St. Louis without Pujols
WEEK OF OCT. 16
Oct. 28:
Law: Chapman still needs work
Oct. 26:
BP: Batter-pitcher data is overrated
Oct. 24:
FanGraphs: A blueprint for C.J. Wilson
Oct. 21:
Cameron: Cards should bench Berkman
Oct. 20:
BP: Why did Washington walk Punto?
Oct. 19:
Szymborski: Sims favor the Rangers
Oct. 18:
Bowden: Ranking all 50 WS players
Oct. 18:
Jedlovec: Previewing WS defenses
Oct. 17:
Perry: World Series hinges on relief
Oct. 16:
Szymborski: Milwaukee without Fielder
Oct. 16:
FanGraphs: Brewers' NLCS miscues
KISS 'EM GOODBYE
Oct. 30:
St. Louis Cardinals
Oct. 29:
Texas Rangers
Oct. 18:
Milwaukee Brewers
Oct. 17:
Detroit Tigers
Oct. 8:
Arizona Diamondbacks
Oct. 8:
Philadelphia Phillies
Oct. 7:
New York Yankees
Oct. 5:
Tampa Bay Rays
Sept. 29:
Atlanta Braves
Sept. 29:
Boston Red Sox
Sept. 27:
Los Angeles Angels
Sept. 26:
San Francisco Giants
Sept. 25:
Cleveland Indians
Sept. 24:
Chicago White Sox
Sept. 23:
Oakland A's
Sept. 22:
Los Angeles Dodgers
Sept. 21:
Colorado Rockies
Sept. 20:
Toronto Blue Jays
Sept. 19:
Cincinnati Reds
Sept. 18:
San Diego Padres
Sept. 17:
Pittsburgh Pirates
Sept. 16:
Kansas City Royals
Sept. 15:
Minnesota Twins
Sept. 14:
New York Mets
Sept. 13:
Washington Nationals
Sept. 12:
Seattle Mariners
Sept. 11:
Chicago Cubs
Sept. 10:
Baltimore Orioles
Sept. 9:
Florida Marlins
Sept. 8:
Houston Astros
ESSENTIAL LINKS