Commentary
Scouting the Yankees and Tigers
Detroit sluggers will be a major test for New York's thin rotation
Updated:
September 30, 2011, 2:54 PM ET
By
Jason Grey
| ESPN Insider
For a scouting report on the Rangers-Rays series, click here.
A three-team trade takes place in December 2009, and the major players in that deal are all key components in getting all three teams to the 2011 playoffs. A win-win-win scenario?
Two of those teams match up in the American League Division Series as the Detroit Tigers meet the New York Yankees. The Yankees received Curtis Granderson in that trade, while the Tigers got Max Scherzer from the Diamondbacks (as well as reliever Daniel Schlereth) and Austin Jackson from the Yankees. (For their part, the Arizona Diamondbacks got their top two starters out of the deal -- Ian Kennedy from the Yankees and Edwin Jackson from the Tigers, who they later flipped for their No. 2, Daniel Hudson.) Everyone seems pretty happy with the outcome.
And while the ALDS isn't a referendum on who won the trade, Granderson, Jackson and Scherzer will certainly play large roles. Here are scouting reports on each club that will help us decide which team has the edge.
Yankees
• Granderson, of course, was one of the stories of the season thanks to his work with hitting coach Kevin Long on altering his swing late last year. The center fielder quieted his setup at the plate, and a switch to keeping both hands on the bat on his follow-through rather than having his left hand fly off of it kept his swing closed and kept him from pulling off the ball, resulting in more consistent, harder contact. The biggest improvement was against southpaws (an impact which won't be felt as much in this series, with the Tigers not having a lefty starter), as he slugged almost .600 against them this season after posting a .334 mark against them from 2008 to 2010. It resulted in 41 homers overall.
For a full breakdown of the Yankees-Tigers series, become an ESPN Insider.
ESPN The Magazine subscribers

Need more information?
SPONSORED HEADLINES
MORE MLB HEADLINES
MOST SENT STORIES ON ESPN.COM
Insider MLB Content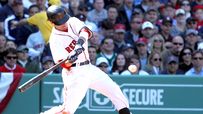 WEEK OF OCT. 30
Nov. 5:
Bowden: Grading the Jim Thome deal
Nov. 5:
Law: Thome, Phillies aren't a great fit
Nov. 4:
Bowden: Pricing the free agents
Nov. 3:
Law: Ranking top 50 MLB free agents
Nov. 2:
Jedlovec: Worst Gold Glove selections
Nov. 1:
Meyers: Buyer beware of C.J. Wilson
Oct. 31:
Cameron: Papi a fit in the Bronx
Oct. 30:
Perry: Finding free agency solutions
Oct. 30:
Szymborski: St. Louis without Pujols
WEEK OF OCT. 16
Oct. 28:
Law: Chapman still needs work
Oct. 26:
BP: Batter-pitcher data is overrated
Oct. 24:
FanGraphs: A blueprint for C.J. Wilson
Oct. 21:
Cameron: Cards should bench Berkman
Oct. 20:
BP: Why did Washington walk Punto?
Oct. 19:
Szymborski: Sims favor the Rangers
Oct. 18:
Bowden: Ranking all 50 WS players
Oct. 18:
Jedlovec: Previewing WS defenses
Oct. 17:
Perry: World Series hinges on relief
Oct. 16:
Szymborski: Milwaukee without Fielder
Oct. 16:
FanGraphs: Brewers' NLCS miscues
KISS 'EM GOODBYE
Oct. 30:
St. Louis Cardinals
Oct. 29:
Texas Rangers
Oct. 18:
Milwaukee Brewers
Oct. 17:
Detroit Tigers
Oct. 8:
Arizona Diamondbacks
Oct. 8:
Philadelphia Phillies
Oct. 7:
New York Yankees
Oct. 5:
Tampa Bay Rays
Sept. 29:
Atlanta Braves
Sept. 29:
Boston Red Sox
Sept. 27:
Los Angeles Angels
Sept. 26:
San Francisco Giants
Sept. 25:
Cleveland Indians
Sept. 24:
Chicago White Sox
Sept. 23:
Oakland A's
Sept. 22:
Los Angeles Dodgers
Sept. 21:
Colorado Rockies
Sept. 20:
Toronto Blue Jays
Sept. 19:
Cincinnati Reds
Sept. 18:
San Diego Padres
Sept. 17:
Pittsburgh Pirates
Sept. 16:
Kansas City Royals
Sept. 15:
Minnesota Twins
Sept. 14:
New York Mets
Sept. 13:
Washington Nationals
Sept. 12:
Seattle Mariners
Sept. 11:
Chicago Cubs
Sept. 10:
Baltimore Orioles
Sept. 9:
Florida Marlins
Sept. 8:
Houston Astros
ESSENTIAL LINKS