Commentary
Jennings deserves to win AL ROY
The Rays outfielder has earned the honor despite his short big league stint
Updated:
September 24, 2011, 5:07 PM ET
By
Dave Cameron
| FanGraphs
Barring an epic meltdown in the season's final week, Craig Kimbrel is almost certain to take home the National League Rookie of the Year Award, and rightfully so -- he's been the best reliever in baseball this year. However, the picture is much more crowded over in the American League, where Mark Trumbo, Ivan Nova, Jeremy Hellickson, Michael Pineda and Jordan Walden all lead AL rookies in at least one category, and all will likely get support when the ballots are cast.
While those five each have counting stats that stand out from the crowd, none of them has made the same impact as Tampa Bay Rays outfielder Desmond Jennings. Because the Rays opted to keep him in Triple-A until July 23, Jennings has played in just 56 games. However, that isn't even the fewest ever for a position player who won Rookie of the Year. In 1959, Willie McCovey hit .354 with 13 homers for the Giants in 52 games and won ROY. Like McCovey, Jennings has been one of the best players in the game since his promotion, and his output has helped push the Rays back into playoff contention.
At the plate, Jennings has posted a 147 wRC+ (weighted runs created plus, meaning his offensive performance was 47 percent better than league average), second-best among AL rookies. That mark trails only Toronto's Brett Lawrie, who managed to play just 43 games due to injuries. For comparison, Jacoby Ellsbury is going to get MVP votes, and he's posted a 148 wRC+ this season. What Jennings lacks in quantity, he has made up for in quality, performing at the same level as most of the game's superstars.
To read why Dave Cameron believes Desmond Jennings deserves the AL Rookie of the Year Award, become an ESPN Insider.
ESPN The Magazine subscribers

Need more information?
Managing editor of FanGraphs
Founder of U.S.S. Mariner
Also contributes to Wall Street Journal
SPONSORED HEADLINES
MORE MLB HEADLINES
MOST SENT STORIES ON ESPN.COM
Insider MLB Content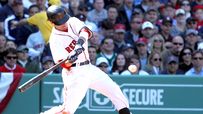 WEEK OF OCT. 30
Nov. 5:
Bowden: Grading the Jim Thome deal
Nov. 5:
Law: Thome, Phillies aren't a great fit
Nov. 4:
Bowden: Pricing the free agents
Nov. 3:
Law: Ranking top 50 MLB free agents
Nov. 2:
Jedlovec: Worst Gold Glove selections
Nov. 1:
Meyers: Buyer beware of C.J. Wilson
Oct. 31:
Cameron: Papi a fit in the Bronx
Oct. 30:
Perry: Finding free agency solutions
Oct. 30:
Szymborski: St. Louis without Pujols
WEEK OF OCT. 16
Oct. 28:
Law: Chapman still needs work
Oct. 26:
BP: Batter-pitcher data is overrated
Oct. 24:
FanGraphs: A blueprint for C.J. Wilson
Oct. 21:
Cameron: Cards should bench Berkman
Oct. 20:
BP: Why did Washington walk Punto?
Oct. 19:
Szymborski: Sims favor the Rangers
Oct. 18:
Bowden: Ranking all 50 WS players
Oct. 18:
Jedlovec: Previewing WS defenses
Oct. 17:
Perry: World Series hinges on relief
Oct. 16:
Szymborski: Milwaukee without Fielder
Oct. 16:
FanGraphs: Brewers' NLCS miscues
KISS 'EM GOODBYE
Oct. 30:
St. Louis Cardinals
Oct. 29:
Texas Rangers
Oct. 18:
Milwaukee Brewers
Oct. 17:
Detroit Tigers
Oct. 8:
Arizona Diamondbacks
Oct. 8:
Philadelphia Phillies
Oct. 7:
New York Yankees
Oct. 5:
Tampa Bay Rays
Sept. 29:
Atlanta Braves
Sept. 29:
Boston Red Sox
Sept. 27:
Los Angeles Angels
Sept. 26:
San Francisco Giants
Sept. 25:
Cleveland Indians
Sept. 24:
Chicago White Sox
Sept. 23:
Oakland A's
Sept. 22:
Los Angeles Dodgers
Sept. 21:
Colorado Rockies
Sept. 20:
Toronto Blue Jays
Sept. 19:
Cincinnati Reds
Sept. 18:
San Diego Padres
Sept. 17:
Pittsburgh Pirates
Sept. 16:
Kansas City Royals
Sept. 15:
Minnesota Twins
Sept. 14:
New York Mets
Sept. 13:
Washington Nationals
Sept. 12:
Seattle Mariners
Sept. 11:
Chicago Cubs
Sept. 10:
Baltimore Orioles
Sept. 9:
Florida Marlins
Sept. 8:
Houston Astros
ESSENTIAL LINKS