MLB's improved Asian pitching
Pitchers from the Far East aren't getting better; MLB clubs are getting smarter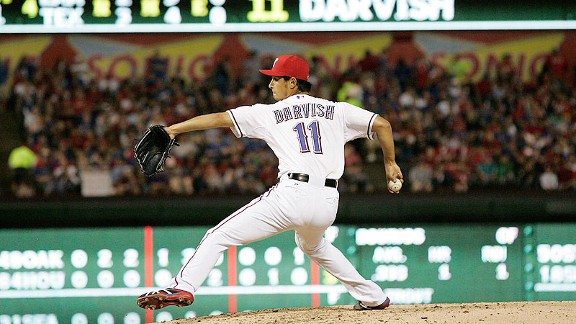 Tim Heitman/USA TODAY SportsYu Darvish is a rare example of an Asian pitcher who seamlessly transitioned to the major leagues.
The wave of Asian pitchers emerging as successful starters in Major League Baseball is once again shining a light on Far East imports.
Nearly 20 years have passed since Hideo Nomo's 1995 Rookie of the Year campaign with the Los Angeles Dodgers. Since then, there have been enough failures and successes from the Pacific Rim that teams are much smarter and have a better idea of what to look for when trying to predict MLB success.
Scouting Asia can be tricky, and misses can prove expensive. The Boston Red Sox paid $103 million for two good years of Daisuke Matsuzaka -- the last four years of that contract were beyond forgettable. The Atlanta Braves bit on Kenshin Kawakami and coughed up $23 million for three years of his services. (His eight major league wins hardly seemed worth it.) Kei Igawa may be the most publicized of Asian failures. He was the Yankees' response to the Matsuzaka signing, and his total package including posting fee came to $46 million over five years. Igawa's time in New York was abysmal, as he went 2-4 with a 6.66 ERA in 16 total games.
History has taught us that there are no sure things when it comes to international pitching prospects. Success in Nippon Professional Baseball does not always translate to success in the majors, and clubs have to proceed with caution when investing in pitchers from foreign leagues.
So when does it work, and when does it not, are there traits that help indicate it'll go one way or the other? Here's a detailed look at successful -- and unsuccessful -- examples of Asian pitchers who have made the leap to MLB, along with the most important factors when it comes to making the transition from Asia to the major leagues.
To read more about how MLB teams have become better at scouting Asian pitchers, become an Insider today.
Insider
10-year MLB veteran
No. 9 overall pick in 1994 draft
Played professionally in Japan and Korea
SPONSORED HEADLINES
MORE MLB HEADLINES
MOST SENT STORIES ON ESPN.COM
EDITORS' PICKS
A path to the playoffs for all teams in the AL East.
David Schoenfield »

The deal sending Matt Kemp for the Dodgers to the Padres has been agreed upon.
Story »

Trouble ahead?