Commentary
Top seven positional improvements
Angels and Marlins among the teams who made biggest offseason upgrades
Originally Published:
February 25, 2012
By
Ben Lindbergh
| Baseball Prospectus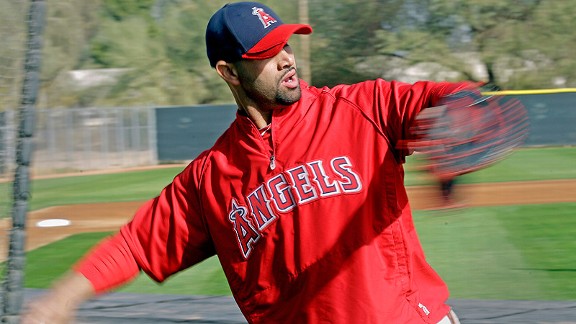 AP Photo/Morry GashSigning Pujols gave the Angels the biggest upgrade at first base for 2012.
Teams don't always have to make a major move in order to improve over the winter. Sometimes merely subtracting someone who played poorly can affect our expectations for a club.
Occasionally, a series of seemingly minor moves can make a major cumulative impact. And at other times, there's an obvious in-house fix for a roster's flaws in the form of a player returning from an injury, being promoted from the minors, or switching to a position where he'll be of more use. The Tampa Bay Rays went from last place in 2007 to first place in 2008 without acquiring an outside player more accomplished than Troy Percival. Some offseason overhauls don't start making headlines until the regular season is well under way.
Still, the moves that make us dream about how good a given team can be when players report to spring training tend to be the ones involving established talents. When we've already seen what a player can do, it's easy to picture him doing it again in a different uniform. Naturally, the more a team struggled at the new player's position last year, the more exciting the upgrade.
But it's easy to get carried away and overstate the improvement. Assessing the impact of a high-profile player addition requires more than a little imagination and mental arithmetic.
Using the rate statistics predicted by PECOTA, Baseball Prospectus' proprietary projection system, and the human-generated playing-time estimates contained in our depth charts, we've come up with an estimate of what each team can expect from each position in 2012. By comparing those estimates to the production we know those teams got from the same positions last season, we can pinpoint the biggest positional improvements according to BP's total value metric, Wins Above Replacement Player (WARP). The following seven positions improved by an estimated two wins or more this winter thanks to a trade or free-agent signing.

Angels first basemen weren't bad last season. Mark Trumbo got the bulk of the at-bats, hitting 29 home runs and finishing as the runner-up for AL Rookie of the Year. Howie Kendrick hit .417/.440/.604 in 50 plate appearances at the position. Altogether, Angels first basemen produced 2.4 WARP, roughly an average total. In general, it's tough to improve on "average" by leaps and bounds -- it's easier to go from hopeless to average than from average to elite -- and the biggest gains often are achieved by swapping out a sub-replacement player for a more dependable mid-level option. There are exceptions to this rule, but they don't come cheap.
To read more about the seven best positional improvements, you must be an Insider.
Insider
Ben Lindbergh is the editor-in-chief of Baseball Prospectus. He has interned for multiple MLB teams and is a member of the BBWAA.
Spring Fever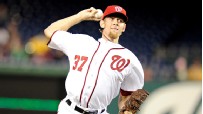 Stephen Strasburg is at the center of any conversation about the 2012 season ... and beyond.
Future Power Rankings
Buster, Bowden and Law break down how well your team is set up for the future.
Part 1: No. 30-21
Part 2: No. 20-11
Part 3: No. 10-1
Audio: Shocks and surprises
Future Power Rankings methodology
Keith Law's top prospects
Features
March 30:
Szymborski: AL standings
|
NL
March 29:
BP: Four fading Phillies
March 27:
Szymborski: Five non-flukes
March 26:
Cameron: Top 500's underachievers
March 23:
Cameron: Will Strasburg be the same?
March 22:
BP: Smoak underrated by Safeco
March 21:
Szymborski: The next Bautista
March 19:
Cameron: Controlling Bryce's price
March 15:
Goldstein: Prospects making waves
March 15:
BP: Who's starting the wrong guy?
March 12:
Cameron: Tribe's nasty rotation
March 10:
Lindbergh: Sale a good bet to succeed

MOST SENT STORIES ON ESPN.COM