Commentary
Future 50: Buxton No. 1
The prep center fielder tops Insider's first MLB draft board for 2012
Updated:
March 15, 2012, 6:22 PM ET
By
Keith Law
| ESPN Insider
The college baseball season kicked off last Friday and high schools are underway across the southern U.S., making this a good time for my first ranking of the top 50 prospects for the 2012 Rule 4 draft. Last year, we had a surfeit of candidates for the first overall pick, as many as six by my reckoning, on top of two straight years where the first overall pick was clear before the first pitch of the spring was thrown. This year, on the other hand, there's no one who would have gone first in any of the last three drafts, and no clear cut first overall pick, which means there's an opportunity for someone here to seize the reins over the course of the next 12 weeks.
These lists change dramatically each over the course of the spring as players improve or regress, suffer injuries, or perform (or fail to perform) on critical nights when more eyes are watching. I'll update the list in a few weeks after scouts have had a few more looks at these players -- and after I've had a few more looks too.


Byron Buxton
CF
6-1
175

Analysis: Buxton, who's committed to Georgia, earns comparisons to the Upton brothers for his fast-twitch actions and potential for five above-average or plus tools. However, he won't face a lot of great competition this spring at Appling County HS in Baxley, Ga., which will make it difficult for scouts to determine how polished he is with the bat.
To see the full rankings from Keith Law, sign up today and become an ESPN Insider.
Insider
2012 MLB Draft Coverage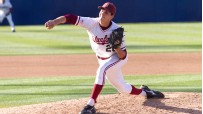 Keith Law, Jason Churchill and Kiley McDaniel tell you all you need to know about the 2012 MLB draft.
Draft Blog
6/7:
Law: Where top picks fit in systems
6/7:
Goldstein: Fantasy leaders from 2012 Draft
6/6:
Churchill: Fast track prospects
6/6:
American League draft evaluations
6/5:
National League draft evaluations
6/5:
Day 2 highlights
6/5:
Day 1 winners and questions
6/4:
Analyzing the compensation picks
6/4:
Live Day 1 pick-by-pick analysis
Rankings And Mocks
6/4:
Final top 100 draft prospects
6/4:
Final mock draft
6/1:
Mock draft 3.0
5/29:
Mock draft 2.0
5/15:
Appel No. 1 in first mock
5/8:
Top 100 has new names at No. 2 and No. 3
4/10:
Future 50 v. 2.0: Zunino rises
2/23:
Future 50: Buxton No. 1
MLB Draft History

MOST SENT STORIES ON ESPN.COM