Commentary
MLB Future Power Rankings (20-11)
Putting the next five years in perspective for every big league franchise
Updated:
February 16, 2012, 1:15 PM ET
By
Jim Bowden, Keith Law
and
Buster Olney
| ESPN Insider
If you're a fan of the Chicago Cubs, you're familiar with the phrase "Wait till next year!" But what about the year after, and the year after that? That's where ESPN Insider comes in.
While the baseball world gears up for spring training, we've decided to take the long view and asked our three top baseball analysts -- Jim Bowden, Keith Law and Buster Olney -- to rank all 30 teams in five different categories (see table) in attempt to measure how well each team is set up for sustained success over the next five years.
The better your rank in a given category, the more points you get, and the average point scores from the three voters are available in the bar graphs accompanying each team's section, rounded to the nearest integer. We weighted the categories and then gave each team a score on a scale of 1 to 100, with the score representing a team's percentage of total possible points. (For a detailed breakdown of the methodology used for the Future Power Rankings, click here.)
On Tuesday, we began with the lower tier of teams, and today we get the meaty middle. Many of the teams featured here are considered contenders for 2012, but they lack the farm system or cash to give off the confidence that they are in position to sustain success beyond the next year or two.
Amazingly, the highest-ranked team in this group hasn't made the playoffs in more than 25 years, yet is above all other teams in its division.
FPR: No. 30-21

| 20-11

| 10-1

To see which teams rank in the middle tier -- and get access to the full series and the rest of ESPN Insider's MLB content -- become an Insider today.
Insider
Senior Writer, ESPN The Magazine
Senior writer ESPN Magazine/ESPN.com
Analyst/reporter ESPN television
Author of "The Last Night of the Yankee Dynasty"
Spring Fever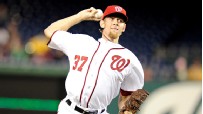 Stephen Strasburg is at the center of any conversation about the 2012 season ... and beyond.
Future Power Rankings
Buster, Bowden and Law break down how well your team is set up for the future.
Part 1: No. 30-21
Part 2: No. 20-11
Part 3: No. 10-1
Audio: Shocks and surprises
Future Power Rankings methodology
Keith Law's top prospects
Features
March 30:
Szymborski: AL standings
|
NL
March 29:
BP: Four fading Phillies
March 27:
Szymborski: Five non-flukes
March 26:
Cameron: Top 500's underachievers
March 23:
Cameron: Will Strasburg be the same?
March 22:
BP: Smoak underrated by Safeco
March 21:
Szymborski: The next Bautista
March 19:
Cameron: Controlling Bryce's price
March 15:
Goldstein: Prospects making waves
March 15:
BP: Who's starting the wrong guy?
March 12:
Cameron: Tribe's nasty rotation
March 10:
Lindbergh: Sale a good bet to succeed

MOST SENT STORIES ON ESPN.COM