Commentary
Reds gain by standing still
Pujols and Fielder departures leave NL Central wide open for Cincinnati
Originally Published:
December 12, 2011
By
Dayn Perry
| ESPN Insider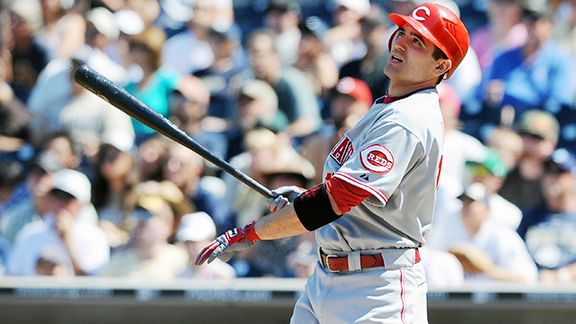 Christopher Hanewinckel/US PresswireWith Pujols and Fielder gone, things are looking up for Joey Votto and the Reds.
Last week's winter meetings were filled with all sorts of moves, both big and small. There were a few teams, however, who did almost nothing, and the Cincinnati Reds were among them. That kind of inaction will usually make you the target of local talk radio hosts, but in Reds' case, it might -- just might -- have put them over the top.
The Reds, of course, muscled their way to the division title in 2010 but regressed last season to 79 wins and a third-place finish. The two teams in front of the Reds in 2011, however, have been diminished by recent events. Most notably, the World Series champion St. Louis Cardinals lost Albert Pujols to the Los Angeles Angels, and then outfielder/first baseman Allen Craig, a vital part of any post-Pujols scenario in St. Louis, was revealed to have undergone knee surgery last month. He'll be lost until at least May.
The Cardinals certainly have room in the budget to add, say, someone like Carlos Beltran, but so far they look primed to fall from their 90-win level of a year ago, and that's the case even with the return of pitcher Adam Wainwright from Tommy John surgery. And all of this is to say nothing of the loss of Tony La Russa, who might be the best manager since Joe McCarthy.
To read how Dayn Perry thinks the Cincinnati Reds are the biggest winner with Albert Pujols and Prince Fielder leaving the NL Central, sign up for ESPN Insider today.
Insider
Offseason Buyer's Guide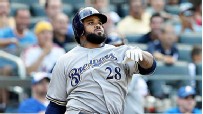 Prince Fielder headlines the 2011 free agent class, but who are the other players who could be changing teams this winter?
Rankings
Nov. 3:
Law: Top 50 free agents
|
Tracker
Nov. 4:
Bowden: Projected value rankings
Reaction
Jan. 25:
Bowden: How Detroit landed Prince
Jan. 24:
Law: Fielder helps now, not later
Jan. 14:
Bowden: Grading Yankees-M's deal
Jan. 13:
Law: Pineda-Montero deal a win-win
Jan. 11:
Law: Madson a steal for Reds
Jan. 6:
Law: Cubs win Cashner-Rizzo deal
Dec. 31:
Law: Quentin a mediocre fit in S.D
Buyer's Guide
Nov. 12:
Buyers Guide: Catchers
Nov. 11:
Buyers Guide: Relief Pitchers
Nov. 10:
Buyers Guide: Starting Pitchers
Nov. 9:
Buyers Guide: Third basemen
Nov. 8:
Buyers Guide: Outfielders
Nov. 7:
Buyers Guide: Middle infielders
Nov. 4:
Buyers Guide: First basemen/DH
Features
Feb. 9:
Perry: A case for the Nats
Feb. 7:
Szymborski: Ellsbury to fall off
Feb. 6:
Cameron: The cost of moving to third
Feb. 3:
Meyers: Poor drafts doom Cubs, Mets
Feb. 2:
Bowden: How to rebuild the Orioles
Feb. 1:
Goldstein: How good is Cespedes?
Jan. 30:
Szymborski: Projecting Angels, Tigers
History
•
Law: 2010 top 50 rankings
•
Law: 2009 top 50 rankings
•
Law: 2008 top 50 rankings
•
Law: 2007 top 50 rankings
•
Law: 2006 top 40 rankings

MOST SENT STORIES ON ESPN.COM