Commentary
Contenders that should do nothing
Sometimes the best transactions are the ones you don't make
Updated:
December 3, 2011, 9:51 AM ET
By
Dayn Perry
| FanGraphs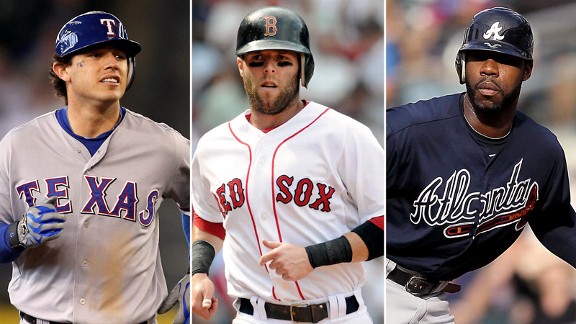 Getty ImagesIan Kinsler, Dustin Pedroia and Jason Heyward don't need major reinforcements.
The current iterations of the Texas Rangers, Boston Red Sox and Atlanta Braves have at least three things in common: all three crafted their own tragic endings to the 2011 season, all three figure to contend again in 2012, and all three teams don't need to do very much in order to do so.
Sure, the Hot Stove is very much about conspicuous consumption. For teams with designs on the belt and the title, anything less than the splashiest addition might be regarded as a half-measure. For teams like the Rangers, Red Sox and Braves, this perhaps goes double: a crushing near-miss should beget major changes. Or at least that's what many observers seem to think. As mentioned, however, there's no need for a purge in Arlington or Boston or Atlanta, and there's no need for pricey, top-tier signings.
To see why these contenders should stand pat, become an ESPN Insider.
Insider
Offseason Buyer's Guide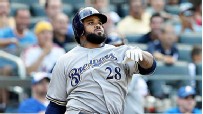 Prince Fielder headlines the 2011 free agent class, but who are the other players who could be changing teams this winter?
Rankings
Nov. 3:
Law: Top 50 free agents
|
Tracker
Nov. 4:
Bowden: Projected value rankings
Reaction
Jan. 25:
Bowden: How Detroit landed Prince
Jan. 24:
Law: Fielder helps now, not later
Jan. 14:
Bowden: Grading Yankees-M's deal
Jan. 13:
Law: Pineda-Montero deal a win-win
Jan. 11:
Law: Madson a steal for Reds
Jan. 6:
Law: Cubs win Cashner-Rizzo deal
Dec. 31:
Law: Quentin a mediocre fit in S.D
Buyer's Guide
Nov. 12:
Buyers Guide: Catchers
Nov. 11:
Buyers Guide: Relief Pitchers
Nov. 10:
Buyers Guide: Starting Pitchers
Nov. 9:
Buyers Guide: Third basemen
Nov. 8:
Buyers Guide: Outfielders
Nov. 7:
Buyers Guide: Middle infielders
Nov. 4:
Buyers Guide: First basemen/DH
Features
Feb. 9:
Perry: A case for the Nats
Feb. 7:
Szymborski: Ellsbury to fall off
Feb. 6:
Cameron: The cost of moving to third
Feb. 3:
Meyers: Poor drafts doom Cubs, Mets
Feb. 2:
Bowden: How to rebuild the Orioles
Feb. 1:
Goldstein: How good is Cespedes?
Jan. 30:
Szymborski: Projecting Angels, Tigers
History
•
Law: 2010 top 50 rankings
•
Law: 2009 top 50 rankings
•
Law: 2008 top 50 rankings
•
Law: 2007 top 50 rankings
•
Law: 2006 top 40 rankings

MOST SENT STORIES ON ESPN.COM