Commentary
Projecting Yoenis Cespedes
The Cuban outfielder appears to have a bright future in the majors
Updated:
February 13, 2012, 12:41 PM ET
By
Dan Szymborski
| Baseball Think Factory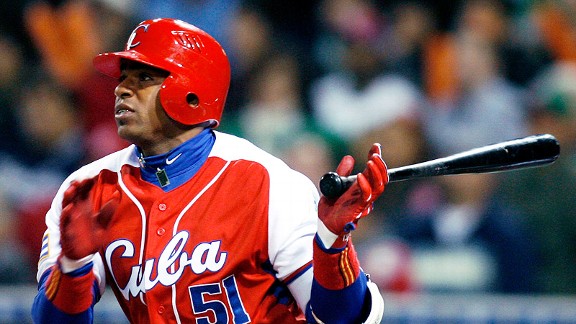 AP Photo/Denis PoroyCespedes' scouting video created a lot of hype. Can he live up to it?
This story originally ran on Nov. 30, but we are linking to it again in light of the report that Yoenis Cespedes has agreed to terms with the Oakland A's.
A free-agent market rather thin on outfielders gets a little more exciting soon, with Cuban star Yoenis Cespedes entering the mix once he's approved for temporary residency in the Dominican Republic. With Grady Sizemore's return to Cleveland, Coco Crisp becomes by far the best center fielder available, so it's not surprising that most teams have sent scouts to check on Cespedes.
Evaluating a player from Cuba provides a unique set of challenges that aren't present when scouting other international prospects. Observing workouts isn't the ideal scouting situation. And as awesome as the official Yoenis Cespedes video is -- featuring a "Star Wars" opening and a montage set to "Sailing" by Christopher Cross -- it's a thin foundation on which to give an eight-figure contract.
As such, the stats become even more important than usual as they provide the main source of objective information about Cespedes.
For a full projection that will show you if Cespedes is worth drafting in your fantasy league, become an ESPN Insider.
Insider
Creator of ZiPS projection system
Founder of Baseball Think Factory
Offseason Buyer's Guide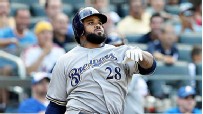 Prince Fielder headlines the 2011 free agent class, but who are the other players who could be changing teams this winter?
Rankings
Nov. 3:
Law: Top 50 free agents
|
Tracker
Nov. 4:
Bowden: Projected value rankings
Reaction
Jan. 25:
Bowden: How Detroit landed Prince
Jan. 24:
Law: Fielder helps now, not later
Jan. 14:
Bowden: Grading Yankees-M's deal
Jan. 13:
Law: Pineda-Montero deal a win-win
Jan. 11:
Law: Madson a steal for Reds
Jan. 6:
Law: Cubs win Cashner-Rizzo deal
Dec. 31:
Law: Quentin a mediocre fit in S.D
Buyer's Guide
Nov. 12:
Buyers Guide: Catchers
Nov. 11:
Buyers Guide: Relief Pitchers
Nov. 10:
Buyers Guide: Starting Pitchers
Nov. 9:
Buyers Guide: Third basemen
Nov. 8:
Buyers Guide: Outfielders
Nov. 7:
Buyers Guide: Middle infielders
Nov. 4:
Buyers Guide: First basemen/DH
Features
Feb. 9:
Perry: A case for the Nats
Feb. 7:
Szymborski: Ellsbury to fall off
Feb. 6:
Cameron: The cost of moving to third
Feb. 3:
Meyers: Poor drafts doom Cubs, Mets
Feb. 2:
Bowden: How to rebuild the Orioles
Feb. 1:
Goldstein: How good is Cespedes?
Jan. 30:
Szymborski: Projecting Angels, Tigers
History
•
Law: 2010 top 50 rankings
•
Law: 2009 top 50 rankings
•
Law: 2008 top 50 rankings
•
Law: 2007 top 50 rankings
•
Law: 2006 top 40 rankings

MOST SENT STORIES ON ESPN.COM