Commentary
Bargain bin free agents
Sometimes the guys who make the biggest difference are those who come cheap
Updated:
November 8, 2011, 6:03 PM ET
By
Dan Szymborski
| Baseball Think Factory
Cary Edmondson/US PresswireWillingham has averaged 23 homers a year over the the last three seasons.
ESPN Insider has spent a lot of time talking about the top free agents, such as Prince Fielder and Albert Pujols. However, there are only so many big-name stars to go around and only so much money available to pay them and most teams will not bring their fans such a lucrative holiday gift.
While the stars will always get the attention, and deservedly so, many bargain free agents play just as big a role in their new teams as the brand names. Sure, Adrian Beltre performed as advertised and was a key part of the Rangers, but players as varied as Ryan Roberts, Casey Kotchman, John Axford and Joel Peralta, all picked up cheaply, were key performers on their respective playoff teams.
As such, we've identified 10 players, none likely to command a bidding war, but with the ability to contribute above and beyond their 2011 salaries. For each player, their 2012 ZiPS projections for a neutral park/league are given.
---
Josh Willingham, LF: .249/.350/.467, 22 HR, 70 RBIs, 2.3 WAR
One of the few performing players on the Oakland A's, with 98 RBIs on a team that had only one other player above 60. However, Willingham's age and defensive ability preclude anyone signing him to a long-term deal. The Atlanta Braves and Chicago White Sox are two teams that missed the playoffs that could've used the extra bat -- if Atlanta had Willingham in 2011, the Braves likely hold off the Cardinals and make the playoffs. Willingham's best fit is on a team with a solid defensive center fielder that needs some quick offense.
For a look at the cheap free agents who could help you team, become an ESPN Insider.
Insider
Creator of ZiPS projection system
Founder of Baseball Think Factory
Offseason Buyer's Guide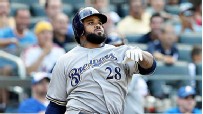 Prince Fielder headlines the 2011 free agent class, but who are the other players who could be changing teams this winter?
Rankings
Nov. 3:
Law: Top 50 free agents
|
Tracker
Nov. 4:
Bowden: Projected value rankings
Reaction
Jan. 25:
Bowden: How Detroit landed Prince
Jan. 24:
Law: Fielder helps now, not later
Jan. 14:
Bowden: Grading Yankees-M's deal
Jan. 13:
Law: Pineda-Montero deal a win-win
Jan. 11:
Law: Madson a steal for Reds
Jan. 6:
Law: Cubs win Cashner-Rizzo deal
Dec. 31:
Law: Quentin a mediocre fit in S.D
Buyer's Guide
Nov. 12:
Buyers Guide: Catchers
Nov. 11:
Buyers Guide: Relief Pitchers
Nov. 10:
Buyers Guide: Starting Pitchers
Nov. 9:
Buyers Guide: Third basemen
Nov. 8:
Buyers Guide: Outfielders
Nov. 7:
Buyers Guide: Middle infielders
Nov. 4:
Buyers Guide: First basemen/DH
Features
Feb. 9:
Perry: A case for the Nats
Feb. 7:
Szymborski: Ellsbury to fall off
Feb. 6:
Cameron: The cost of moving to third
Feb. 3:
Meyers: Poor drafts doom Cubs, Mets
Feb. 2:
Bowden: How to rebuild the Orioles
Feb. 1:
Goldstein: How good is Cespedes?
Jan. 30:
Szymborski: Projecting Angels, Tigers
History
•
Law: 2010 top 50 rankings
•
Law: 2009 top 50 rankings
•
Law: 2008 top 50 rankings
•
Law: 2007 top 50 rankings
•
Law: 2006 top 40 rankings

MOST SENT STORIES ON ESPN.COM