Commentary
Choking is real
Sorry, Red Sox fans: Choking is the curse that keeps on taking
Updated:
October 23, 2011, 1:31 PM ET
By
Peter Keating
| ESPN The Magazine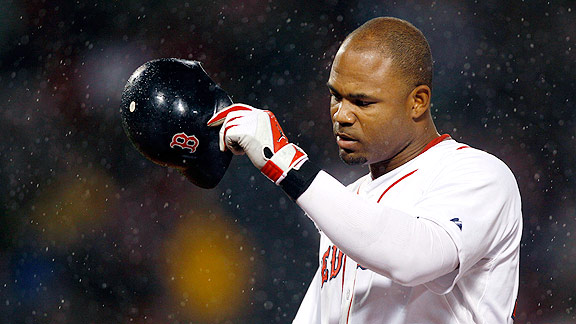 AP Photo/Charles KrupaCrawford's season-ending botched play may end up costing the Sox more than just a playoff berth.
This story appears in the Oct. 31 issue of ESPN The Magazine.
THE RED SOX HAVE NO IDEA just how cursed they are. When leftfielder Carl Crawford botched that line drive by the Orioles' Robert Andino in the bottom of the ninth inning of the 162nd game, he didn't just put a capper on the latest Boston gag job. Crawford may well have increased the odds that future Red Sox will choke too.
This may seem like a sabermetrically incorrect statement. After all, in studying such sports myths as hitting streaks and "the hot hand," stat fiends find nothing but clumps of randomness. But choking is very real. Over the past few years, a string of studies has shown that athletes are prone to underperform when facing certain kinds of extreme pressure. Psychologically, in fact, they are in some ways ideal candidates for crumbling. The latest research even suggests that the historical record of a team can affect how well a pro does at key moments.
So what makes someone choke? The first cause is distraction, when there's so much going on around you that you can't properly focus on the task at hand (think of the time you tried to give a wedding toast with five video cams shoved in your face). But distraction affects everyday people much more than jocks, who have typically steeled themselves by the time they become pros.
To continue reading this article you must be an Insider
Insider
Peter Keating is a senior writer at ESPN The Magazine, where he covers investigative and statistical subjects. He started writing "The Biz," a column looking at sports business from the fan's point of view, in 1999. He also coordinates the Magazine's annual "Ultimate Standings" project, which ranks all pro franchises according to how much they give back to fans. His work on concussions in football has earned awards from the Deadline Club, the New York Press Club and the Center for the Study of Sport in Society.
ESPN The Magazine: October 31, 2011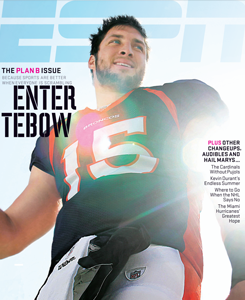 Features
Columns & Go/Play

MOST SENT STORIES ON ESPN.COM