Commentary
Scouting the Brewers and D-backs
Milwaukee's strikeout staff should be able to overcome poor team defense
Updated:
October 1, 2011, 10:32 AM ET
By
Jason Grey
| ESPN Insider
The expectations for these two teams couldn't have been more different entering the season. The Milwaukee Brewers were clearly loading up for a big playoff push before the potential departure of Prince Fielder as a free agent. The Arizona Diamondbacks were supposed to be in the proverbial "rebuilding" mode, having finished in last place in the NL West in 2010, and expected by many to continue that process in their first full season with general manager Kevin Towers and manger Kirk Gibson.
The Brew Crew got what they were expecting out of their investment into this season, but the D-backs completed a worst-to-first transition with a lot of credit being given to the "clubhouse culture" instituted by Gibson, an interesting contrast to some of the stories coming out now about the Red Sox's failure to make the postseason. I'm based in Arizona, so the D-backs are the team I see more than any other. And while I think the influences of things like the culture or clubhouse mood or chemistry can be vastly overstated at times, I will say this: Gibson had the 2011 version of the D-backs honestly believing they were never out of any game, no matter the score. The team led baseball in come-from-behind victories -- none crazier than their final one of the season, scoring six in the 10th inning Tuesday, capped by a walk-off grand slam by Ryan Roberts after giving up five runs in the top of the frame. Obviously, their season was mostly about on-field improvement, but the off-field difference is at least worth mentioning.
To read the complete scouting reports, become an ESPN Insider.
ESPN The Magazine subscribers

Need more information?
SPONSORED HEADLINES
MORE MLB HEADLINES
MOST SENT STORIES ON ESPN.COM
Insider MLB Content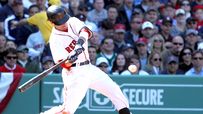 WEEK OF OCT. 30
Nov. 5:
Bowden: Grading the Jim Thome deal
Nov. 5:
Law: Thome, Phillies aren't a great fit
Nov. 4:
Bowden: Pricing the free agents
Nov. 3:
Law: Ranking top 50 MLB free agents
Nov. 2:
Jedlovec: Worst Gold Glove selections
Nov. 1:
Meyers: Buyer beware of C.J. Wilson
Oct. 31:
Cameron: Papi a fit in the Bronx
Oct. 30:
Perry: Finding free agency solutions
Oct. 30:
Szymborski: St. Louis without Pujols
WEEK OF OCT. 16
Oct. 28:
Law: Chapman still needs work
Oct. 26:
BP: Batter-pitcher data is overrated
Oct. 24:
FanGraphs: A blueprint for C.J. Wilson
Oct. 21:
Cameron: Cards should bench Berkman
Oct. 20:
BP: Why did Washington walk Punto?
Oct. 19:
Szymborski: Sims favor the Rangers
Oct. 18:
Bowden: Ranking all 50 WS players
Oct. 18:
Jedlovec: Previewing WS defenses
Oct. 17:
Perry: World Series hinges on relief
Oct. 16:
Szymborski: Milwaukee without Fielder
Oct. 16:
FanGraphs: Brewers' NLCS miscues
KISS 'EM GOODBYE
Oct. 30:
St. Louis Cardinals
Oct. 29:
Texas Rangers
Oct. 18:
Milwaukee Brewers
Oct. 17:
Detroit Tigers
Oct. 8:
Arizona Diamondbacks
Oct. 8:
Philadelphia Phillies
Oct. 7:
New York Yankees
Oct. 5:
Tampa Bay Rays
Sept. 29:
Atlanta Braves
Sept. 29:
Boston Red Sox
Sept. 27:
Los Angeles Angels
Sept. 26:
San Francisco Giants
Sept. 25:
Cleveland Indians
Sept. 24:
Chicago White Sox
Sept. 23:
Oakland A's
Sept. 22:
Los Angeles Dodgers
Sept. 21:
Colorado Rockies
Sept. 20:
Toronto Blue Jays
Sept. 19:
Cincinnati Reds
Sept. 18:
San Diego Padres
Sept. 17:
Pittsburgh Pirates
Sept. 16:
Kansas City Royals
Sept. 15:
Minnesota Twins
Sept. 14:
New York Mets
Sept. 13:
Washington Nationals
Sept. 12:
Seattle Mariners
Sept. 11:
Chicago Cubs
Sept. 10:
Baltimore Orioles
Sept. 9:
Florida Marlins
Sept. 8:
Houston Astros
ESSENTIAL LINKS