Commentary
Troy Tulowitzki's second-half surge
Why does the slugger always hit better in the second half? Insider investigates.
Originally Published:
September 21, 2011
By
Matt Meyers
| ESPN Insider
Thanks to late-season charges that led to playoff berths in 2007 and 2009, the Colorado Rockies have developed a reputation as a team of slow starters and fast finishers. No player exemplifies this attribute better than Troy Tulowitzki, whose current .304/.375/.549 (BA/OBP/SLG) line, combined with stellar defense at shortstop, should earn him some MVP votes.
"It was a tale of two seasons" is a sports writing cliche you'll typically see only from a lazy hack (this usage notwithstanding), but for Tulo, it's almost always true. While the 26-year-old is usually a good player before the All-Star break, he becomes a superstar after it. And this transformation happens every single year.
His half-season splits certainly seem enormous at first glance, but we still need to consult the data. (For all we know, maybe every MLB player hits 20 percent better in the second half of the season.) This year, MLB clubs have a .731 OPS after the break and a .711 OPS before it, but that's a tiny gap compared to Tulo's. And if you look at the past three seasons, the league has hit almost exactly the same in the first half (.731 OPS) as the second (.735). The Rockies' players show a similar split over the past three years, so this is not a Coors Field issue. Therefore, Tulo is an outlier, and the most remarkable thing about these splits might just be how consistent he's been in producing them, particularly the past three years. His first- and second-half numbers are almost identical in each season.
So what changes after the All-Star break? What is Tulowitzki doing in the second half of the season that he isn't doing in the first half? To try to get to the bottom of this, I analyzed his Pitch F/X data for both halves of his 2011 season using some fascinating visuals.
To read more about why Troy Tulowitzki has hit substantially better in the second halves of seasons, you must be an ESPN Insider.
ESPN The Magazine subscribers

Need more information?
SPONSORED HEADLINES
MORE MLB HEADLINES
MOST SENT STORIES ON ESPN.COM
Insider MLB Content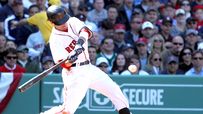 WEEK OF OCT. 30
Nov. 5:
Bowden: Grading the Jim Thome deal
Nov. 5:
Law: Thome, Phillies aren't a great fit
Nov. 4:
Bowden: Pricing the free agents
Nov. 3:
Law: Ranking top 50 MLB free agents
Nov. 2:
Jedlovec: Worst Gold Glove selections
Nov. 1:
Meyers: Buyer beware of C.J. Wilson
Oct. 31:
Cameron: Papi a fit in the Bronx
Oct. 30:
Perry: Finding free agency solutions
Oct. 30:
Szymborski: St. Louis without Pujols
WEEK OF OCT. 16
Oct. 28:
Law: Chapman still needs work
Oct. 26:
BP: Batter-pitcher data is overrated
Oct. 24:
FanGraphs: A blueprint for C.J. Wilson
Oct. 21:
Cameron: Cards should bench Berkman
Oct. 20:
BP: Why did Washington walk Punto?
Oct. 19:
Szymborski: Sims favor the Rangers
Oct. 18:
Bowden: Ranking all 50 WS players
Oct. 18:
Jedlovec: Previewing WS defenses
Oct. 17:
Perry: World Series hinges on relief
Oct. 16:
Szymborski: Milwaukee without Fielder
Oct. 16:
FanGraphs: Brewers' NLCS miscues
KISS 'EM GOODBYE
Oct. 30:
St. Louis Cardinals
Oct. 29:
Texas Rangers
Oct. 18:
Milwaukee Brewers
Oct. 17:
Detroit Tigers
Oct. 8:
Arizona Diamondbacks
Oct. 8:
Philadelphia Phillies
Oct. 7:
New York Yankees
Oct. 5:
Tampa Bay Rays
Sept. 29:
Atlanta Braves
Sept. 29:
Boston Red Sox
Sept. 27:
Los Angeles Angels
Sept. 26:
San Francisco Giants
Sept. 25:
Cleveland Indians
Sept. 24:
Chicago White Sox
Sept. 23:
Oakland A's
Sept. 22:
Los Angeles Dodgers
Sept. 21:
Colorado Rockies
Sept. 20:
Toronto Blue Jays
Sept. 19:
Cincinnati Reds
Sept. 18:
San Diego Padres
Sept. 17:
Pittsburgh Pirates
Sept. 16:
Kansas City Royals
Sept. 15:
Minnesota Twins
Sept. 14:
New York Mets
Sept. 13:
Washington Nationals
Sept. 12:
Seattle Mariners
Sept. 11:
Chicago Cubs
Sept. 10:
Baltimore Orioles
Sept. 9:
Florida Marlins
Sept. 8:
Houston Astros
ESSENTIAL LINKS