Commentary
The Yankees' off-speed problem
When the pitch is not coming in fast, New York's production slows
Updated:
August 23, 2011, 12:55 PM ET
By
Dan Szymborski
| Baseball Think Factory
Anyone with even a passing familiarity with the 2011 New York Yankees knows they have one of the best offensive attacks in the league. They are edging out the Boston Red Sox and Texas Rangers for the most runs scored in baseball so far this season, and it's hard to find a true weakness in the lineup to exploit. The Yankees hit at home and on the road, against lefties and righties, against fly ball pitchers and ground ball pitchers. With apologies to the late, great, Dr. Seuss, this team would score runs in a box, with a fox, in a house, or with a mouse.
Looking at the pitch-by-pitch stats against the Yankees on FanGraphs, however, tells a story of a lineup with a weakness this season. The Bronx Bombers have been the best team in baseball this year at hitting fastballs, generating 81 more runs of production against fastballs than the average team. Just five teams in baseball are even 20 or more runs better than average against fastballs this season, so that 81 is a pretty impressive number. While the Red Sox and Rangers are also very good fastball-hitting teams this year, there's more balance. For example, the Red Sox and Rangers rank second and third in baseball against changeups. Against changeups and curveballs, the Yankees have combined to be seven runs below average, a relatively weak performance for a team leading baseball in runs scored.
For a full breakdown of the Yankees' trouble against off-speed stuff, and why this could be a problem come October, become an ESPN Insider today.
ESPN The Magazine subscribers

Need more information?
Creator of ZiPS projection system
Founder of Baseball Think Factory
SPONSORED HEADLINES
MORE MLB HEADLINES
MOST SENT STORIES ON ESPN.COM
Insider MLB Content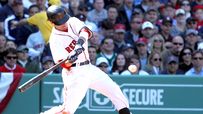 WEEK OF OCT. 30
Nov. 5:
Bowden: Grading the Jim Thome deal
Nov. 5:
Law: Thome, Phillies aren't a great fit
Nov. 4:
Bowden: Pricing the free agents
Nov. 3:
Law: Ranking top 50 MLB free agents
Nov. 2:
Jedlovec: Worst Gold Glove selections
Nov. 1:
Meyers: Buyer beware of C.J. Wilson
Oct. 31:
Cameron: Papi a fit in the Bronx
Oct. 30:
Perry: Finding free agency solutions
Oct. 30:
Szymborski: St. Louis without Pujols
WEEK OF OCT. 16
Oct. 28:
Law: Chapman still needs work
Oct. 26:
BP: Batter-pitcher data is overrated
Oct. 24:
FanGraphs: A blueprint for C.J. Wilson
Oct. 21:
Cameron: Cards should bench Berkman
Oct. 20:
BP: Why did Washington walk Punto?
Oct. 19:
Szymborski: Sims favor the Rangers
Oct. 18:
Bowden: Ranking all 50 WS players
Oct. 18:
Jedlovec: Previewing WS defenses
Oct. 17:
Perry: World Series hinges on relief
Oct. 16:
Szymborski: Milwaukee without Fielder
Oct. 16:
FanGraphs: Brewers' NLCS miscues
KISS 'EM GOODBYE
Oct. 30:
St. Louis Cardinals
Oct. 29:
Texas Rangers
Oct. 18:
Milwaukee Brewers
Oct. 17:
Detroit Tigers
Oct. 8:
Arizona Diamondbacks
Oct. 8:
Philadelphia Phillies
Oct. 7:
New York Yankees
Oct. 5:
Tampa Bay Rays
Sept. 29:
Atlanta Braves
Sept. 29:
Boston Red Sox
Sept. 27:
Los Angeles Angels
Sept. 26:
San Francisco Giants
Sept. 25:
Cleveland Indians
Sept. 24:
Chicago White Sox
Sept. 23:
Oakland A's
Sept. 22:
Los Angeles Dodgers
Sept. 21:
Colorado Rockies
Sept. 20:
Toronto Blue Jays
Sept. 19:
Cincinnati Reds
Sept. 18:
San Diego Padres
Sept. 17:
Pittsburgh Pirates
Sept. 16:
Kansas City Royals
Sept. 15:
Minnesota Twins
Sept. 14:
New York Mets
Sept. 13:
Washington Nationals
Sept. 12:
Seattle Mariners
Sept. 11:
Chicago Cubs
Sept. 10:
Baltimore Orioles
Sept. 9:
Florida Marlins
Sept. 8:
Houston Astros
ESSENTIAL LINKS