Commentary
Top signed prospects from 2011 draft
Players who have signed before the Aug. 15 deadline and are making a mark in pro ball
Updated:
August 10, 2011, 3:46 PM ET
By
Kevin Goldstein
| Baseball Prospectus
The signing deadline for the 2011 draft is less than a week away, and yet 16 of this year's first 20 picks have yet to put their name on the dotted line. This isn't a cause for concern as much as it's the new way of doing things.
While moving the deadline to two months after the draft has eliminated the year-long holdout gambit, it certainly has led to more waiting by players, as it has been proven over recent years that the players who wait are the players who get paid.
There are plenty of teams that have yet to even start real negotiations with their top pick, and while they understand the tactic of wait, there is frustration with the delays produced in the player's development.
"I don't blame them at all for waiting," said one American League executive. "The problem is that the players we have signed are out there, not only playing, but getting adjusted to the rigors of professional baseball. All of that stuff is out of the way come next spring, leaving the late signers behind."
There are signed players who are taking advantage of their more lengthy pro debuts, and here is a team of 2011 draftees already making a mark:
---

Catcher: Neftali Rosario, Chicago Cubs

A sixth-round pick out of the Puerto Rico Baseball Academy, Rosario's $150,000 bonus is one of the biggest in the round. The 18-year-old has lived up to expectations by showing excellent receiving skills with a plus arm while surprising with his bat, hitting .340/.375/.566 in limited action for the Cubs complex team in Arizona.

He might not be ready for a full-season assignment in 2012, but this summer's performance gives him a better chance to do so.

Big names unsigned: Boston Red Sox first-rounder Blake Swihart has above-average potential both at and behind the plate, while the San Diego Padres have a pair of backstops to sign in supplemental first-round pick Brett Austin and second-rounder Austin Hedges. Hedges is a potentially special defender.



Become an ESPN Insider and read about other top prospects who have signed and are currently playing minor league ball.
ESPN The Magazine subscribers

Need more information?
SPONSORED HEADLINES
MORE MLB HEADLINES
MOST SENT STORIES ON ESPN.COM
Insider MLB Content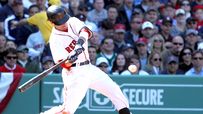 WEEK OF OCT. 30
Nov. 5:
Bowden: Grading the Jim Thome deal
Nov. 5:
Law: Thome, Phillies aren't a great fit
Nov. 4:
Bowden: Pricing the free agents
Nov. 3:
Law: Ranking top 50 MLB free agents
Nov. 2:
Jedlovec: Worst Gold Glove selections
Nov. 1:
Meyers: Buyer beware of C.J. Wilson
Oct. 31:
Cameron: Papi a fit in the Bronx
Oct. 30:
Perry: Finding free agency solutions
Oct. 30:
Szymborski: St. Louis without Pujols
WEEK OF OCT. 16
Oct. 28:
Law: Chapman still needs work
Oct. 26:
BP: Batter-pitcher data is overrated
Oct. 24:
FanGraphs: A blueprint for C.J. Wilson
Oct. 21:
Cameron: Cards should bench Berkman
Oct. 20:
BP: Why did Washington walk Punto?
Oct. 19:
Szymborski: Sims favor the Rangers
Oct. 18:
Bowden: Ranking all 50 WS players
Oct. 18:
Jedlovec: Previewing WS defenses
Oct. 17:
Perry: World Series hinges on relief
Oct. 16:
Szymborski: Milwaukee without Fielder
Oct. 16:
FanGraphs: Brewers' NLCS miscues
KISS 'EM GOODBYE
Oct. 30:
St. Louis Cardinals
Oct. 29:
Texas Rangers
Oct. 18:
Milwaukee Brewers
Oct. 17:
Detroit Tigers
Oct. 8:
Arizona Diamondbacks
Oct. 8:
Philadelphia Phillies
Oct. 7:
New York Yankees
Oct. 5:
Tampa Bay Rays
Sept. 29:
Atlanta Braves
Sept. 29:
Boston Red Sox
Sept. 27:
Los Angeles Angels
Sept. 26:
San Francisco Giants
Sept. 25:
Cleveland Indians
Sept. 24:
Chicago White Sox
Sept. 23:
Oakland A's
Sept. 22:
Los Angeles Dodgers
Sept. 21:
Colorado Rockies
Sept. 20:
Toronto Blue Jays
Sept. 19:
Cincinnati Reds
Sept. 18:
San Diego Padres
Sept. 17:
Pittsburgh Pirates
Sept. 16:
Kansas City Royals
Sept. 15:
Minnesota Twins
Sept. 14:
New York Mets
Sept. 13:
Washington Nationals
Sept. 12:
Seattle Mariners
Sept. 11:
Chicago Cubs
Sept. 10:
Baltimore Orioles
Sept. 9:
Florida Marlins
Sept. 8:
Houston Astros
ESSENTIAL LINKS