Commentary
Why Dustin Pedroia is underrated
The Red Sox second baseman is one of MLB's underappreciated superstars
Originally Published:
August 7, 2011
By
Steve Slowinski
| FanGraphs
In the world of professional sports, it's not easy to get taken seriously when you're only 5-foot-9. You simply look so tiny on television. Fans are used to watching giant hulks competing against each other, so even though 5-9 is the average height for males in the U.S., any player less than 6 feet tall looks a bit ridiculous on screen. When you're standing at bat and the catcher and umpire are nearly as tall as you when crouching down, how is anyone supposed to take you seriously?
Such is the burden borne by Dustin Pedroia. He's not the shortest player to appear in the majors this year -- that honor goes to Danny Herrera (5-5) on the Milwaukee Brewers -- nor is he that short by the standards of other middle infielders. Jimmy Rollins, Chone Figgins, Rafael Furcal and Brian Roberts are all about equal in stature, and haven't faced the same level of size jokes as the Red Sox second baseman.
But Pedroia is something that none of those players have ever been: a superstar.
Don't get me wrong: I know all five of those players have been stars at some point. Rollins, Furcal and Roberts have all had solid careers, and Figgins had a few great seasons as well. But I'm talking about superstars, the handful of players who are undeniably the best in the game. Albert Pujols, Jose Bautista, Evan Longoria, Adrian Gonzalez -- you know, those kind of players.
Why does Pedroia deserve to be lumped in with this group?
Let's take a cloer look.
To read more about why Dustin Pedroia is a superstar -- and still underrated -- you must be an ESPN Insider.
ESPN The Magazine subscribers

Need more information?
SPONSORED HEADLINES
MORE MLB HEADLINES
MOST SENT STORIES ON ESPN.COM
Insider MLB Content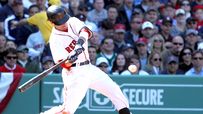 WEEK OF OCT. 30
Nov. 5:
Bowden: Grading the Jim Thome deal
Nov. 5:
Law: Thome, Phillies aren't a great fit
Nov. 4:
Bowden: Pricing the free agents
Nov. 3:
Law: Ranking top 50 MLB free agents
Nov. 2:
Jedlovec: Worst Gold Glove selections
Nov. 1:
Meyers: Buyer beware of C.J. Wilson
Oct. 31:
Cameron: Papi a fit in the Bronx
Oct. 30:
Perry: Finding free agency solutions
Oct. 30:
Szymborski: St. Louis without Pujols
WEEK OF OCT. 16
Oct. 28:
Law: Chapman still needs work
Oct. 26:
BP: Batter-pitcher data is overrated
Oct. 24:
FanGraphs: A blueprint for C.J. Wilson
Oct. 21:
Cameron: Cards should bench Berkman
Oct. 20:
BP: Why did Washington walk Punto?
Oct. 19:
Szymborski: Sims favor the Rangers
Oct. 18:
Bowden: Ranking all 50 WS players
Oct. 18:
Jedlovec: Previewing WS defenses
Oct. 17:
Perry: World Series hinges on relief
Oct. 16:
Szymborski: Milwaukee without Fielder
Oct. 16:
FanGraphs: Brewers' NLCS miscues
KISS 'EM GOODBYE
Oct. 30:
St. Louis Cardinals
Oct. 29:
Texas Rangers
Oct. 18:
Milwaukee Brewers
Oct. 17:
Detroit Tigers
Oct. 8:
Arizona Diamondbacks
Oct. 8:
Philadelphia Phillies
Oct. 7:
New York Yankees
Oct. 5:
Tampa Bay Rays
Sept. 29:
Atlanta Braves
Sept. 29:
Boston Red Sox
Sept. 27:
Los Angeles Angels
Sept. 26:
San Francisco Giants
Sept. 25:
Cleveland Indians
Sept. 24:
Chicago White Sox
Sept. 23:
Oakland A's
Sept. 22:
Los Angeles Dodgers
Sept. 21:
Colorado Rockies
Sept. 20:
Toronto Blue Jays
Sept. 19:
Cincinnati Reds
Sept. 18:
San Diego Padres
Sept. 17:
Pittsburgh Pirates
Sept. 16:
Kansas City Royals
Sept. 15:
Minnesota Twins
Sept. 14:
New York Mets
Sept. 13:
Washington Nationals
Sept. 12:
Seattle Mariners
Sept. 11:
Chicago Cubs
Sept. 10:
Baltimore Orioles
Sept. 9:
Florida Marlins
Sept. 8:
Houston Astros
ESSENTIAL LINKS