Commentary
Successful trade deadline sellers
The Blue Jays and Rockies made trades that could pay big dividends in the near future
Updated:
August 1, 2011, 5:58 PM ET
By
Jonah Keri
| FanGraphs
Doyle Alexander for John Smoltz. Larry Andersen for Jeff Bagwell. Bartolo Colon for Grady Sizemore, Brandon Phillips and Cliff Lee. For all the attention focused on the buyers at the trade deadline, sellers often see big results … even if it takes a few years for those results to materialize.
Here are a few of the sellers who fared best this year:
---

Traded Jason Frasor and Zach Stewart to Chicago White Sox for Edwin Jackson and Mark Teahen
Traded Edwin Jackson, Octavio Dotel, Corey Patterson, Marc Rzepczynski and three players to be named later, or cash to St. Louis Cardinals for Colby Rasmus, Trever Miller, Brian Tallet and P.J. Walters
Stewart is the lone prospect here, and he projects as either a back-of-the-rotation starter or a bullpen guy. After that, you're giving up a utility man, two relief pitchers and another decent, but low-upside, swingman. Some of these pieces might have value for a contending team, particularly Frasor to the White Sox (3.62 FIP) and Jackson to the Cardinals (3.21 FIP). None matters to the Jays … except for Rasmus.
Not yet 25 years old, Rasmus already has a 4-win season under his belt, along with some explosive minor league numbers (including 29 homers in 128 games at Double-A four years ago). He plays a premium position and is three-plus years away from free agency. It's no secret that he and Tony La Russa didn't see eye-to-eye, and Rasmus might be the rare case where the old change-of-scenery argument actually holds water. There's a nonzero chance that Rasmus (and especially his hands-on father) truly is a pain in the butt and that his natural talent will never quite yield the results people hope.
There's also a pretty decent chance Rasmus will become a star. That's a risk a team playing in the same division as the Yankees and Red Sox has to take. It's a risk any team should take. And it's a huge coup for a Jays team that's emerging as one of baseball's true sleeping giants with a GM (Alex Anthopoulos) who is distinguishing himself as one of the best dealmakers in the game.
To read about the other successful sellers at the trade deadline, and learn more about the prospects those teams are counting on to succeed in the big leagues, you must be an ESPN Insider.
ESPN The Magazine subscribers

Need more information?
Page 2
SPONSORED HEADLINES
MORE MLB HEADLINES
MOST SENT STORIES ON ESPN.COM
Insider MLB Content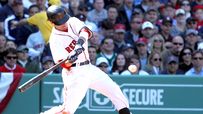 WEEK OF OCT. 30
Nov. 5:
Bowden: Grading the Jim Thome deal
Nov. 5:
Law: Thome, Phillies aren't a great fit
Nov. 4:
Bowden: Pricing the free agents
Nov. 3:
Law: Ranking top 50 MLB free agents
Nov. 2:
Jedlovec: Worst Gold Glove selections
Nov. 1:
Meyers: Buyer beware of C.J. Wilson
Oct. 31:
Cameron: Papi a fit in the Bronx
Oct. 30:
Perry: Finding free agency solutions
Oct. 30:
Szymborski: St. Louis without Pujols
WEEK OF OCT. 16
Oct. 28:
Law: Chapman still needs work
Oct. 26:
BP: Batter-pitcher data is overrated
Oct. 24:
FanGraphs: A blueprint for C.J. Wilson
Oct. 21:
Cameron: Cards should bench Berkman
Oct. 20:
BP: Why did Washington walk Punto?
Oct. 19:
Szymborski: Sims favor the Rangers
Oct. 18:
Bowden: Ranking all 50 WS players
Oct. 18:
Jedlovec: Previewing WS defenses
Oct. 17:
Perry: World Series hinges on relief
Oct. 16:
Szymborski: Milwaukee without Fielder
Oct. 16:
FanGraphs: Brewers' NLCS miscues
KISS 'EM GOODBYE
Oct. 30:
St. Louis Cardinals
Oct. 29:
Texas Rangers
Oct. 18:
Milwaukee Brewers
Oct. 17:
Detroit Tigers
Oct. 8:
Arizona Diamondbacks
Oct. 8:
Philadelphia Phillies
Oct. 7:
New York Yankees
Oct. 5:
Tampa Bay Rays
Sept. 29:
Atlanta Braves
Sept. 29:
Boston Red Sox
Sept. 27:
Los Angeles Angels
Sept. 26:
San Francisco Giants
Sept. 25:
Cleveland Indians
Sept. 24:
Chicago White Sox
Sept. 23:
Oakland A's
Sept. 22:
Los Angeles Dodgers
Sept. 21:
Colorado Rockies
Sept. 20:
Toronto Blue Jays
Sept. 19:
Cincinnati Reds
Sept. 18:
San Diego Padres
Sept. 17:
Pittsburgh Pirates
Sept. 16:
Kansas City Royals
Sept. 15:
Minnesota Twins
Sept. 14:
New York Mets
Sept. 13:
Washington Nationals
Sept. 12:
Seattle Mariners
Sept. 11:
Chicago Cubs
Sept. 10:
Baltimore Orioles
Sept. 9:
Florida Marlins
Sept. 8:
Houston Astros
ESSENTIAL LINKS