Commentary
Most likely AL prospects to be traded
Could Jesus Montero or Ryan Lavarnway be trade bait?
Updated:
July 20, 2011, 2:46 PM ET
By
Kevin Goldstein
| Baseball Prospectus
As the rumor mill churns leading up to the July 31 non-waiver trade deadline, the talk is almost always centered on the big names. But while the focus may be on Carlos Beltran, Heath Bell, Mike Adams and other top trade targets, the minor league prospects heading the other way are almost always what make those deals happen.
So let's think about real teams, real contenders and what kind of prospects they might be dangling out there in an attempt to get that extra piece, or maybe even one of the big prizes, while reviewing what they are looking for based on recent discussions with several team executives.
In this piece, we'll break down the American League contenders, identifying a player who could be a big chip and a potential hidden extra player for each team. The National League contenders are addressed here.

What they need: The Red Sox would like starting pitching, but they don't want to take on future salaries, so someone like Hiroki Kuroda could be an attractive target. There was some thought that they might enter the Carlos Beltran sweepstakes due to J.D. Drew's awful year, but Josh Reddick has quickly become the internal answer.
To find out which prospects the Red Sox, Yankees, Rangers and other top contenders might trade, you must be an ESPN Insider.
ESPN The Magazine subscribers

Need more information?
SPONSORED HEADLINES
MORE MLB HEADLINES
MOST SENT STORIES ON ESPN.COM
Insider MLB Content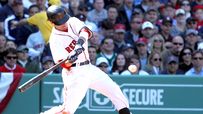 WEEK OF OCT. 30
Nov. 5:
Bowden: Grading the Jim Thome deal
Nov. 5:
Law: Thome, Phillies aren't a great fit
Nov. 4:
Bowden: Pricing the free agents
Nov. 3:
Law: Ranking top 50 MLB free agents
Nov. 2:
Jedlovec: Worst Gold Glove selections
Nov. 1:
Meyers: Buyer beware of C.J. Wilson
Oct. 31:
Cameron: Papi a fit in the Bronx
Oct. 30:
Perry: Finding free agency solutions
Oct. 30:
Szymborski: St. Louis without Pujols
WEEK OF OCT. 16
Oct. 28:
Law: Chapman still needs work
Oct. 26:
BP: Batter-pitcher data is overrated
Oct. 24:
FanGraphs: A blueprint for C.J. Wilson
Oct. 21:
Cameron: Cards should bench Berkman
Oct. 20:
BP: Why did Washington walk Punto?
Oct. 19:
Szymborski: Sims favor the Rangers
Oct. 18:
Bowden: Ranking all 50 WS players
Oct. 18:
Jedlovec: Previewing WS defenses
Oct. 17:
Perry: World Series hinges on relief
Oct. 16:
Szymborski: Milwaukee without Fielder
Oct. 16:
FanGraphs: Brewers' NLCS miscues
KISS 'EM GOODBYE
Oct. 30:
St. Louis Cardinals
Oct. 29:
Texas Rangers
Oct. 18:
Milwaukee Brewers
Oct. 17:
Detroit Tigers
Oct. 8:
Arizona Diamondbacks
Oct. 8:
Philadelphia Phillies
Oct. 7:
New York Yankees
Oct. 5:
Tampa Bay Rays
Sept. 29:
Atlanta Braves
Sept. 29:
Boston Red Sox
Sept. 27:
Los Angeles Angels
Sept. 26:
San Francisco Giants
Sept. 25:
Cleveland Indians
Sept. 24:
Chicago White Sox
Sept. 23:
Oakland A's
Sept. 22:
Los Angeles Dodgers
Sept. 21:
Colorado Rockies
Sept. 20:
Toronto Blue Jays
Sept. 19:
Cincinnati Reds
Sept. 18:
San Diego Padres
Sept. 17:
Pittsburgh Pirates
Sept. 16:
Kansas City Royals
Sept. 15:
Minnesota Twins
Sept. 14:
New York Mets
Sept. 13:
Washington Nationals
Sept. 12:
Seattle Mariners
Sept. 11:
Chicago Cubs
Sept. 10:
Baltimore Orioles
Sept. 9:
Florida Marlins
Sept. 8:
Houston Astros
ESSENTIAL LINKS