Overrated, underrated on ESPN 500
The ZiPS projection system weighs in and sets the rankings straight
Updated:
April 4, 2012, 6:39 PM ET
By
Dan Szymborski
| Baseball Think Factory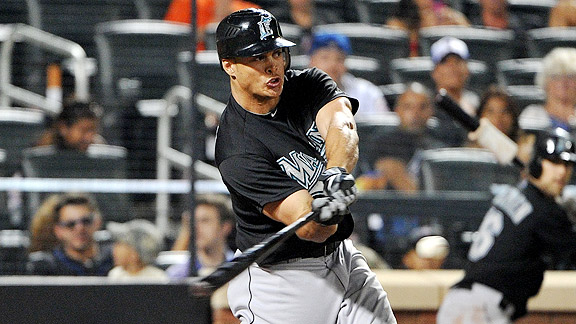 Christopher Pasatieri/Getty ImagesIf the ESPN 500 is any indication, Giancarlo Stanton could be quite underrated in 2012.
ESPN's panel of experts has spoken, and the full top 500 list for the 2012 season has been unveiled. So, what better time to start ripping it apart?
Since nothing makes someone more popular than second-guessing, except perhaps tattling or backseat driving, let's get right down to business and look at some of the bigger mistakes the panel (myself included) made in the rankings. I've highlighted some of the most egregiously overrated and underrated players based on the gap between their ESPN 500 ranking and their ranking in terms of projected 2012 wins above replacement (WAR).
Underrated

Giancarlo Stanton, Miami Marlins
ESPN: 40, ZiPS: 10
At 22 years old, he is coming off a season in which he had a line of .262 AVG/.356 OBP/.537 SLG and hit 34 homers for the Marlins -- and he falls this low? Plus, Stanton is now using his far cooler birth name and is sorely underrated as a defensive player.
Baseball-Reference and FanGraphs give Stanton's 2011 an average WAR of 5.0, and there's more to come. ZiPS even sees Stanton cracking the bottom of the top 10 this year, at No. 10 with 5.3 WAR in the new park.
To read the full story on overrated and underrated players on the ESPN 500, sign up today and become an ESPN Insider.
Insider
Creator of ZiPS projection system
Founder of Baseball Think Factory
TOP 500 MLB PLAYERS OF 2012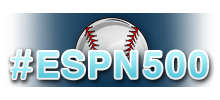 Follow the top 500 rankings and join the discussion on Facebook and Twitter (@ESPN_MLB) at #ESPN500.
RANKINGS SCHEDULE
Tuesday, March 20
Players ranked Nos. 401-500
· Triple Play: Surprises among bottom 100 »
· Video: Who could break out? »
· Szymborski: The next Jose Bautista? »
· Video: Who Kurkjian likes in 'bottom' 100 »

Wednesday, March 21
Players ranked Nos. 351-400
· Triple Play: Is Dunn done? »
· Video: Slumping sluggers »

Thursday, March 22
Players ranked Nos. 301-350
· BP: Underrated by ballpark »
· Triple Play: Top 100 in 2013? »
· Video: Youngsters to watch »

Friday, March 23
Players ranked Nos. 251-300
· Triple Play: No love for R.A. Dickey? »
· BBTN Video: Zambrano & names to note »

Monday, March 26
Players ranked Nos. 201-250
· Cameron: Top 500's underachievers »
· Triple Play: Helton for Hall of Fame? »
· Video: Bowden & Stark on Cuban duo »

Tuesday, March 27
Players ranked Nos. 151-200
· Triple Play: Who's listed too high? »
· Law: Who'll be No. 1 in 2017 »
· Video: Law/Schoenfield on three rookies »

Wednesday, March 28
Players ranked Nos. 101-150
· Triple Play: Is Jeter still elite? »
· Schoenfield: Jeter's year-to-year rank »
· Video: BBTN on Jeter at No. 115 »

Thursday, March 29
Players ranked Nos. 51-100
· Triple Play: Strasburg, Andrus worthy? »
· Insider: Phillies' age issue »
· Video: Darvish, Strasburg or Moore? »

Friday, March 30
Players ranked Nos. 26-50
· Triple Play: Moving up, A-Rod's HR pursuit »
· Insider: Is Johnson the Marlins' best P? »
· Video: McCutchen or Stanton? »

Monday, April 2
Players ranked Nos. 11-25
· Triple Play: Is Mo too high, who's too low? »
· Insider: Who are the top gloves? »
· Video: BBTN on Mariano Rivera at No. 12 »

Tuesday, April 3
Players ranked Nos. 1-10
· Breakdowns by team/position »
· Insider: Most over- or underrated? »
· Triple Play: Did the voters get it right?
· Video: BBTN on Pujols as No. 1 »

TEAM-BY-TEAM RANKINGS
Check out where players ranked on each team:

MOST SENT STORIES ON ESPN.COM