Commentary
Pitching depth problems
Some teams will be undone by poor pitching depth, others won't
Updated:
March 16, 2012, 11:22 AM ET
By
Eno Sarris
| FanGraphs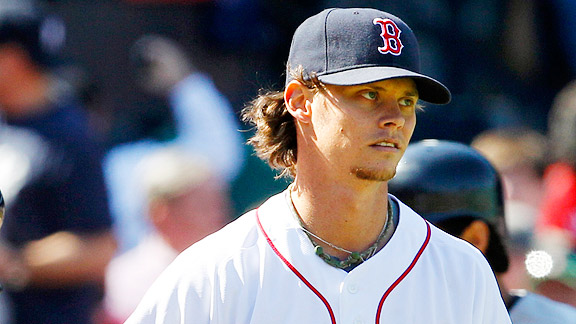 AP Photo/Elise AmendolaBoston is counting on Clay Buchholz to stay healthy, which is something he hasn't been able to do.
A starter on your favorite team's staff will get injured this year.
OK, sure, the odd staff stays healthy all year -- that's just the law of probabilities. But the percentages also say that it's more likely that the average staff suffers an injury or two before the season is over.
Jeff Zimmerman's research on FanGraphs shows that any starting pitcher who started a game last season has a 39 percent chance of hitting the disabled list this year. That number changes based on their health to date, and their age, but the lowest percentage likelihood in his projections still doesn't dip below 30 percent. The consequence of this reality is that teams use more than five starters -- last year, the average was 7.4 starting pitchers with more than 20 innings pitched per team.
Some teams are equipped for the inevitability of injury, and some aren't. Let's look at three contenders that could list rotation depth as a strength, and three that might find themselves reaching for antacid by the end of the season.
Depth as strength

Atlanta Braves
There might not be a better team to describe this phenomenon than the Braves. They could have two injuries to their starting staff before the season begins -- Tim Hudson, Jair Jurrjens and Tommy Hanson have all had issues in the past six months, and more than one of them might not be ready for Opening Day.
Fact are facts: Almost every team needs more than five starters to get through the season, and some contenders are better equipped than others. Eno Sarris of FanGraphs breaks it down.
Insider
Spring Fever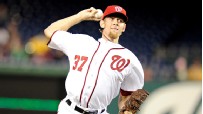 Stephen Strasburg is at the center of any conversation about the 2012 season ... and beyond.
Future Power Rankings
Buster, Bowden and Law break down how well your team is set up for the future.
Part 1: No. 30-21
Part 2: No. 20-11
Part 3: No. 10-1
Audio: Shocks and surprises
Future Power Rankings methodology
Keith Law's top prospects
Features
March 30:
Szymborski: AL standings
|
NL
March 29:
BP: Four fading Phillies
March 27:
Szymborski: Five non-flukes
March 26:
Cameron: Top 500's underachievers
March 23:
Cameron: Will Strasburg be the same?
March 22:
BP: Smoak underrated by Safeco
March 21:
Szymborski: The next Bautista
March 19:
Cameron: Controlling Bryce's price
March 15:
Goldstein: Prospects making waves
March 15:
BP: Who's starting the wrong guy?
March 12:
Cameron: Tribe's nasty rotation
March 10:
Lindbergh: Sale a good bet to succeed

MOST SENT STORIES ON ESPN.COM