Commentary
Record time
Projecting the odds of major milestones being reached in the upcoming season
Updated:
February 29, 2012, 10:53 AM ET
By
Dan Szymborski
| Baseball Think Factory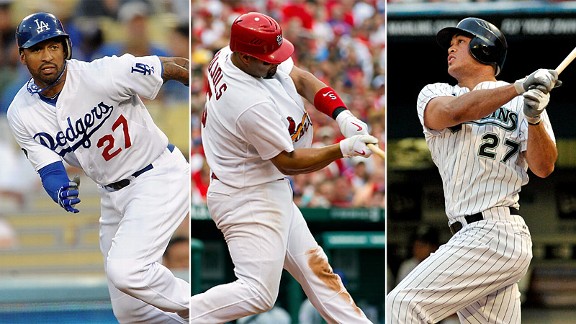 US PresswireWhat are the odds that Kemps creates a 50/50 club, Pujols hits .400 or Stanton smashes 73? Find out below.
In 2011, Matt Kemp narrowly missed joining the 40/40 club (40 homers and 40 stolen bases in a season), falling a home run short of being the fifth player in baseball history to achieve the feat. Two of the four who have, Barry Bonds and Alex Rodriguez, are among the best players to have ever stepped onto a field. The other two, Jose Canseco and Alfonso Soriano, have combined for 13 All-Star appearances. When you're in a club that Willie Mays doesn't qualify for, you're a pretty darn good player.
Rather than make membership in the 40/40 club a goal for 2012, Kemp went a step further, predicting that he'd be the founding member of the 50/50 club. There's little question that Kemp has the talent to accomplish the feat. Kemp is in his prime and is coming off a .324/.399/.586 season in which many argue that he was the deserving NL MVP. So, just how likely is him going 50/50?
To continue reading this article you must be an Insider
Insider
Creator of ZiPS projection system
Founder of Baseball Think Factory
Spring Fever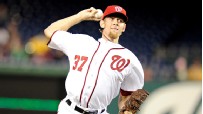 Stephen Strasburg is at the center of any conversation about the 2012 season ... and beyond.
Future Power Rankings
Buster, Bowden and Law break down how well your team is set up for the future.
Part 1: No. 30-21
Part 2: No. 20-11
Part 3: No. 10-1
Audio: Shocks and surprises
Future Power Rankings methodology
Keith Law's top prospects
Features
March 30:
Szymborski: AL standings
|
NL
March 29:
BP: Four fading Phillies
March 27:
Szymborski: Five non-flukes
March 26:
Cameron: Top 500's underachievers
March 23:
Cameron: Will Strasburg be the same?
March 22:
BP: Smoak underrated by Safeco
March 21:
Szymborski: The next Bautista
March 19:
Cameron: Controlling Bryce's price
March 15:
Goldstein: Prospects making waves
March 15:
BP: Who's starting the wrong guy?
March 12:
Cameron: Tribe's nasty rotation
March 10:
Lindbergh: Sale a good bet to succeed

MOST SENT STORIES ON ESPN.COM