Commentary
Free-agent fantasy
Would Trout, Harper and Moore get more on the open market than Darvish?
Updated:
February 27, 2012, 12:41 PM ET
By
Kevin Goldstein
| Baseball Prospectus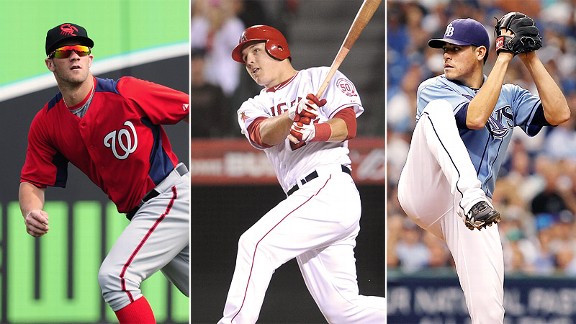 US Presswire/Getty ImagesAs much as Yu Darvish got, Bryce Harper, Mike Trout and Matt Moore could easily top it as free agents.
If there is one thing we learned from the $111.7 million (including posting fee) that the Texas Rangers spent on Yu Darvish this winter, it's this: Young studs with All-Star upside -- even if they haven't really proved anything in the majors -- are extremely valuable.
While free agents get huge money, they are typically in the middle or end of their prime years when they do, so we really never know what a great young player would get on the open market. The contract for Darvish gives a glimpse.
In January, my good friend Sam Miller of The Orange County Register (@SamMillerOCR) asked an interesting question via Twitter that has stuck in my head for some time now. (I'll expand beyond the 140-character limit to flesh the query out a bit.)
If Los Angeles Angels outfielder Mike Trout or Washington Nationals outfielder Bryce Harper were a free agent, no strings, service time irrelevant, would either get paid what the Rangers paid for Darvish?
Since they're part of the "big three" when it comes to the top prospects in the game, let's throw Tampa Bay Rays left-hander Matt Moore into the mix as well. Three players universally considered the top trio of prospects in baseball. Three players universally seen as future stars, and by many as MVP or Cy Young candidates. Three players who are as much as half a decade, if not more, from their prime. If Darvish is worth a total outlay of well over $100 million for six years (and Cuban defector Yoenis Cespedes worth nearly $40 million for four years), what would teams be willing to pay for these three once-in-a-generation talents on the free-agent market?
To find out, I posed the following question to a variety of industry insiders at every level of baseball operations, from area scout to general manager: "The agents for the three top prospects in baseball discover a loophole, and Moore, Harper and Trout are all made free agents. Your predictions for how crazy the bidding would get and which player would get the most?"
The answers were wide-ranging, but in the end, teams are all-in on the trio.
To see how much Moore, Harper and Trout would get as free agents, become an ESPN Insider today.
Insider
Spring Fever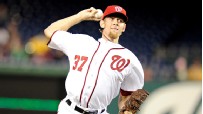 Stephen Strasburg is at the center of any conversation about the 2012 season ... and beyond.
Future Power Rankings
Buster, Bowden and Law break down how well your team is set up for the future.
Part 1: No. 30-21
Part 2: No. 20-11
Part 3: No. 10-1
Audio: Shocks and surprises
Future Power Rankings methodology
Keith Law's top prospects
Features
March 30:
Szymborski: AL standings
|
NL
March 29:
BP: Four fading Phillies
March 27:
Szymborski: Five non-flukes
March 26:
Cameron: Top 500's underachievers
March 23:
Cameron: Will Strasburg be the same?
March 22:
BP: Smoak underrated by Safeco
March 21:
Szymborski: The next Bautista
March 19:
Cameron: Controlling Bryce's price
March 15:
Goldstein: Prospects making waves
March 15:
BP: Who's starting the wrong guy?
March 12:
Cameron: Tribe's nasty rotation
March 10:
Lindbergh: Sale a good bet to succeed

MOST SENT STORIES ON ESPN.COM