Commentary
Don't dismiss Vernon Wells
The Angels outfielder is horribly overpaid, but that doesn't mean he's useless
Updated:
February 20, 2012, 1:53 PM ET
By
Dayn Perry
| FanGraphs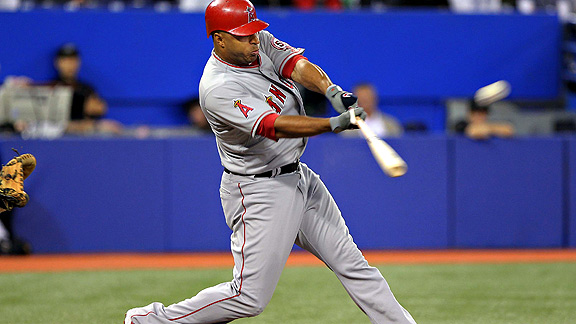 Tom Szczerbowski/US PresswireAs bad as Wells was in 2011, he still led Angels outfielders with 25 home runs.
What with the terribly conspicuous signings of Albert Pujols and C.J. Wilson this offseason, it's easy to forget one important thing about the Los Angeles Angels (of Anaheim): they're saddled with what may be the most burdensome contract in all of baseball. That contract belongs to, of course, Vernon Wells.
To grimly remind Angels fans, Wells was acquired from the Toronto Blue Jays in January 2011 in exchange for Mike Napoli and Juan Rivera. Oh, and the Angels received a mere $5 million to defray the cost of Wells' contract. And speaking of cost, the Halos will pay Wells $63 million over the next three years.
Last season, Wells authored the worst numbers of his career, which raises the possibility that his contract will worsen from "thoroughly ill-advised" to "boondoggle of unimaginable dimensions." To be sure, Wells is an intelligent, self-aware, funny, and occasionally excellent ballplayer, but he's not worth what he's being paid. That's not his fault, but it's reality. To put a finer point on it, Wells, according to wins above replacement, provided $1.4 million in on-field value in 2011 while being paid more than $26 million. Suffice it to say, that's not a sound investment.
So the question for the Angels, who have legitimate designs on a championship this season, is not whether Wells will somehow be worth the money -- he won't be. Rather, the question is whether he can help them toward their greater goals. The answer is yes.
To see how Vernon Wells can still help the Angels -- and get access to all of Insider's MLB content -- sign up today!
Insider
Spring Fever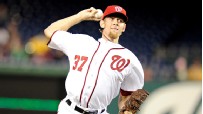 Stephen Strasburg is at the center of any conversation about the 2012 season ... and beyond.
Future Power Rankings
Buster, Bowden and Law break down how well your team is set up for the future.
Part 1: No. 30-21
Part 2: No. 20-11
Part 3: No. 10-1
Audio: Shocks and surprises
Future Power Rankings methodology
Keith Law's top prospects
Features
March 30:
Szymborski: AL standings
|
NL
March 29:
BP: Four fading Phillies
March 27:
Szymborski: Five non-flukes
March 26:
Cameron: Top 500's underachievers
March 23:
Cameron: Will Strasburg be the same?
March 22:
BP: Smoak underrated by Safeco
March 21:
Szymborski: The next Bautista
March 19:
Cameron: Controlling Bryce's price
March 15:
Goldstein: Prospects making waves
March 15:
BP: Who's starting the wrong guy?
March 12:
Cameron: Tribe's nasty rotation
March 10:
Lindbergh: Sale a good bet to succeed

MOST SENT STORIES ON ESPN.COM