Commentary
Fantasy fall-off candidates
These nine players are likely to disappoint their owners in 2012
Updated:
March 8, 2012, 11:26 AM ET
By
Dan Szymborski
| Baseball Think Factory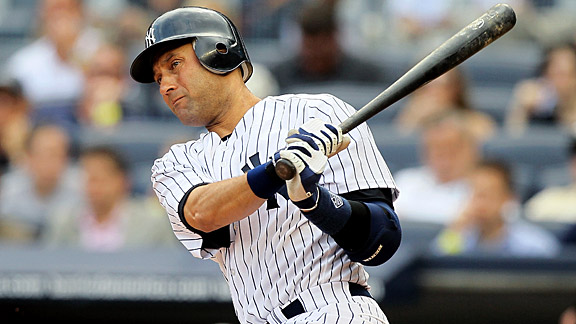 Jim McIsaac/Getty ImagesThe late 30s are not kind to players like Jeter who rely heavily on batting average for fantasy value.
In the most recent issue of ESPN The Magazine, we took a look at the players with the most potential for fantasy breakouts in 2012. This time, we look at its less pleasant counterpart, the fantasy breakdowns. Whereas the breakouts feature some of the players who will regularly populate All-Star Games for the next decade, the breakdown list is tinged with pessimism rather than optimism.
To get an idea of players to be cautious about drafting this spring, I've used the ZiPS projection system to highlight nine of the riskiest performers in the 5-by-5 fantasy categories. That's not to suggest that some of these players don't have value but that they are likely to disappoint if you don't adjust your expectations.
---
Josh Hamilton, OF

Hamilton was drafted too high on average last year and is likely to be drafted too high again this year. By virtue of missing so many years on the restricted list, the 30-year-old is not as young as you would think, and players who miss a lot of playing time because of injuries tend to have steeper aging curves. If we knew Hamilton would repeat his 2010 performance, he'd still be a blue-chipper even if he missed 30 games. But counting on him to channel his MVP season is a bit of a sucker bet.
2012 ZiPS Projection: .289 BA, 70 R, 23 HR, 87 RBIs, 8 SB
---
Derek Jeter, SS

Jeter has been a dependable hitter for average in his career, hitting below .290 only once (2010), and he even got his average up to .297 last season after a rough first half.
For a full list of fantasy fall-off candidates, and an explanation why Derek Jeter is included, become an ESPN Insider.
Insider
Creator of ZiPS projection system
Founder of Baseball Think Factory
Spring Fever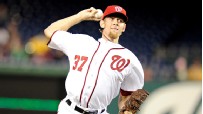 Stephen Strasburg is at the center of any conversation about the 2012 season ... and beyond.
Future Power Rankings
Buster, Bowden and Law break down how well your team is set up for the future.
Part 1: No. 30-21
Part 2: No. 20-11
Part 3: No. 10-1
Audio: Shocks and surprises
Future Power Rankings methodology
Keith Law's top prospects
Features
March 30:
Szymborski: AL standings
|
NL
March 29:
BP: Four fading Phillies
March 27:
Szymborski: Five non-flukes
March 26:
Cameron: Top 500's underachievers
March 23:
Cameron: Will Strasburg be the same?
March 22:
BP: Smoak underrated by Safeco
March 21:
Szymborski: The next Bautista
March 19:
Cameron: Controlling Bryce's price
March 15:
Goldstein: Prospects making waves
March 15:
BP: Who's starting the wrong guy?
March 12:
Cameron: Tribe's nasty rotation
March 10:
Lindbergh: Sale a good bet to succeed

MOST SENT STORIES ON ESPN.COM