Commentary
Darvish's daunting road
A look at the complex adjustments Japanese pitchers face in the States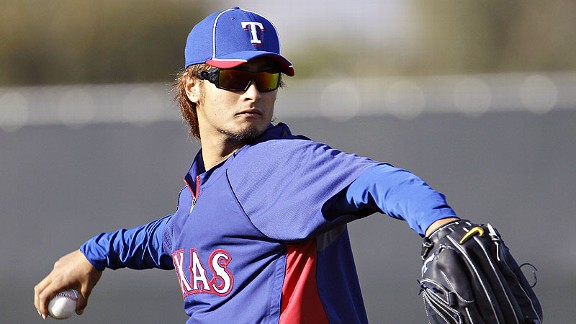 AP Photo/Charlie Riedel Fair or not, past Japanese pitchers' woes leave fans skeptical of Yu Darvish until he proves himself.
Not even two full weeks into his professional life in the United States, Daisuke Matsuzaka did something his new baseball brethren viewed as utterly radical. He stretched under a Fort Myers sun, loosened his arm by launching baseballs a couple hundred feet, then dug his sparkling red and black spikes into the bullpen clay. It was the spring of 2007, his second mound session since the Boston Red Sox spent a total of $103 million to pry him from Nippon Professional Baseball and bring him to Fenway.
Matsuzaka fired 103 pitches.
Considering the major league culture sees 100 pitches as something of a limit for starters in the regular season, this stunned people. Although normal to him, Matsuzaka's routine was foreign to his teammates, unthinkable even.
"I wasn't going to go out and tackle him," says Terry Francona, then Boston's manager and now an ESPN analyst. "You want to see what works for him. But we knew he would have to make some changes."
Francona speaks with the impeccable wisdom of hindsight, of course. Matsuzaka made 32 starts that season, posting 204 2/3 innings and a 4.40 ERA. Boston expected more for an annual investment just shy of $17.2 million, but Jonathan Papelbon fired a fastball by Seth Smith on an October night in Denver, the Red Sox won their second World Series in four years, and nobody thought about Dice-K. Nobody thought 2007 would be one of his better seasons. Nobody thought he wouldn't be a success until, well, he wasn't.
With Matsuzaka missing much of 2012 after undergoing Tommy John surgery and a new coveted Japanese import, Yu Darvish, beginning his American voyage with the Texas Rangers, the discussion returns to the cultural divide Matsuzaka exposed that spring day in Fort Myers. As we've seen, hardly any of the hyped starting pitchers to come over to the majors from NPB have had long-term success. Why is that? And what, exactly, must Darvish overcome?
The physical adjustment
For full access to all of Insider's MLB content -- including Buster Olney and Keith Law -- sign up today.
Insider
Editor for ESPN.com
Played college baseball at North Carolina
Spring Fever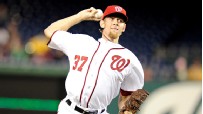 Stephen Strasburg is at the center of any conversation about the 2012 season ... and beyond.
Future Power Rankings
Buster, Bowden and Law break down how well your team is set up for the future.
Part 1: No. 30-21
Part 2: No. 20-11
Part 3: No. 10-1
Audio: Shocks and surprises
Future Power Rankings methodology
Keith Law's top prospects
Features
March 30:
Szymborski: AL standings
|
NL
March 29:
BP: Four fading Phillies
March 27:
Szymborski: Five non-flukes
March 26:
Cameron: Top 500's underachievers
March 23:
Cameron: Will Strasburg be the same?
March 22:
BP: Smoak underrated by Safeco
March 21:
Szymborski: The next Bautista
March 19:
Cameron: Controlling Bryce's price
March 15:
Goldstein: Prospects making waves
March 15:
BP: Who's starting the wrong guy?
March 12:
Cameron: Tribe's nasty rotation
March 10:
Lindbergh: Sale a good bet to succeed

MOST SENT STORIES ON ESPN.COM