Commentary
The next great MLB rotations
The Diamondbacks, Braves and other clubs accumulating elite pitching prospects
Originally Published:
February 21, 2012
By
Kevin Goldstein
| Baseball Prospectus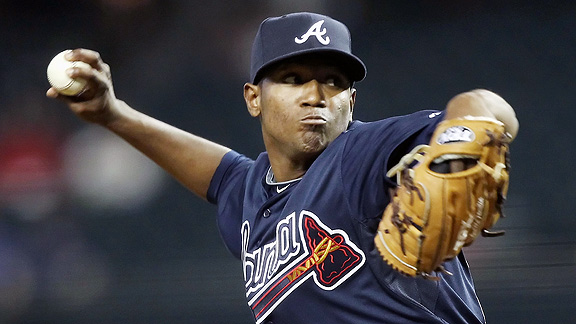 Christian Petersen/Getty ImagesJulio Teheran had a luckluster MLB debut, but that's not necessarily a sign of what's to come.
It's a cliché, but it's true: Everyone needs pitching. Even the richest of the rich need more arms. The New York Yankees added Hiroki Kuroda and Michael Pineda this offseason, while the Boston Red Sox have scrambled to improve their rotation and will try reliever Daniel Bard there this spring.
In the prospect world, there is nothing more valuable and therefore nothing more rare than a self-grown elite starter, with even simply good ones quickly entering untouchable mode in trade talks. Which teams are most likely to develop these valuable commodities?
To find out, I generated five-prospect rotations based solely on prospect status, as opposed to closest to the big leagues, and found nine collections that stood out.
---
The star-studdent department
(Pitchers listed in order of where they would fit in rotation)
1. Arizona Diamondbacks: Trevor Bauer, Tyler Skaggs, Archie Bradley, David Holmberg, Andrew Chafin

The Diamondbacks had the third and seventh overall picks in the 2011 draft, and they made them count when it came to arms. Bauer could be in Arizona as early as this year, and while the high schooler Bradley will certainly take longer, some feel he eclipses Bauer in terms of upside.
Skaggs was acquired in the Dan Haren trade and his stock exploded in 2011, as he went from a projectable pitcher to one who is starting to tap his potential, with some scouts believing he has a shot at becoming a true ace. It's a big drop after the three, but Holmberg is a high-floor player who should slot into any rotation, while Chafin is an intriguing pick from last June who just needs to stay healthy.
To read the full story from Kevin Goldstein, plus gain access to ESPN Insider's full MLB coverage, sign up today.
Insider
Spring Fever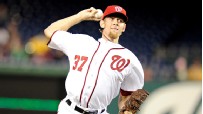 Stephen Strasburg is at the center of any conversation about the 2012 season ... and beyond.
Future Power Rankings
Buster, Bowden and Law break down how well your team is set up for the future.
Part 1: No. 30-21
Part 2: No. 20-11
Part 3: No. 10-1
Audio: Shocks and surprises
Future Power Rankings methodology
Keith Law's top prospects
Features
March 30:
Szymborski: AL standings
|
NL
March 29:
BP: Four fading Phillies
March 27:
Szymborski: Five non-flukes
March 26:
Cameron: Top 500's underachievers
March 23:
Cameron: Will Strasburg be the same?
March 22:
BP: Smoak underrated by Safeco
March 21:
Szymborski: The next Bautista
March 19:
Cameron: Controlling Bryce's price
March 15:
Goldstein: Prospects making waves
March 15:
BP: Who's starting the wrong guy?
March 12:
Cameron: Tribe's nasty rotation
March 10:
Lindbergh: Sale a good bet to succeed

MOST SENT STORIES ON ESPN.COM