Commentary
The sleeping Giants
For the second straight winter San Francisco wasted a chance to improve its club
Updated:
February 20, 2012, 11:48 AM ET
By
Dan Szymborski
| Baseball Think Factory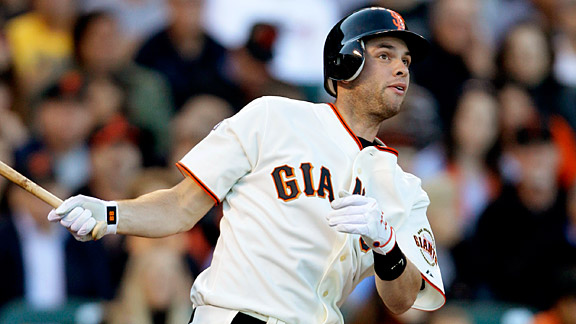 AP Photo/Eric RisbergWhatever their reasons, the Giants have not committed to Brandon Belt.
When spring training opened last year, the San Francisco Giants were baseball's reigning champions and consensus favorites to win the NL West. Instead, San Francisco heard the bell ring in the last week of September, finishing eight games behind the Arizona Diamondbacks in the division and third in the wild-card race. For a team coming off a championship, it was a dismal end to the season. And like many such disappointments, the roots of the team's failures could be found in its previous success.
Winning the World Series necessitates a strong team and a healthy dose of good fortune and lucky bounces. Only one of 30 teams can come away with the trophy, no matter how well-run and talented many of the other 29 teams are. Your organization can have all the best scouts or number-crunchers, but there's no infallible formula for winning. The Giants tried to repeat their 2010 formula by essentially keeping the same roster together, only to find that the same recipe led to different results.
In modern baseball, with teams having more options to improve their clubs suddenly, the franchises that endure are usually the ones that continually improve their rosters. A stationary target is an easy target. The New York Yankees followed up their 2009 World Series by pulling off a three-way trade that netted Curtis Granderson. The Philadelphia Phillies started their run of success in 2007 and added only Roy Halladay and Cliff Lee later. The Boston Red Sox team that won the Series in 2007 was quite different from the one that broke the curse in 2004.
The Giants, on the other hand, spent the offseason after their World Series win by doing very little to keep a step ahead of the competition. The big move the team made was bringing in Miguel Tejada to play shortstop, and Tejada was coming off his worst season in a decade and was a defensive liability.
To read the full story plus get access to all of ESPN Insider's daily MLB content, sign up today and become an Insider.
Insider
Creator of ZiPS projection system
Founder of Baseball Think Factory
Spring Fever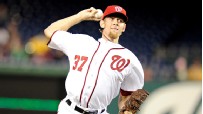 Stephen Strasburg is at the center of any conversation about the 2012 season ... and beyond.
Future Power Rankings
Buster, Bowden and Law break down how well your team is set up for the future.
Part 1: No. 30-21
Part 2: No. 20-11
Part 3: No. 10-1
Audio: Shocks and surprises
Future Power Rankings methodology
Keith Law's top prospects
Features
March 30:
Szymborski: AL standings
|
NL
March 29:
BP: Four fading Phillies
March 27:
Szymborski: Five non-flukes
March 26:
Cameron: Top 500's underachievers
March 23:
Cameron: Will Strasburg be the same?
March 22:
BP: Smoak underrated by Safeco
March 21:
Szymborski: The next Bautista
March 19:
Cameron: Controlling Bryce's price
March 15:
Goldstein: Prospects making waves
March 15:
BP: Who's starting the wrong guy?
March 12:
Cameron: Tribe's nasty rotation
March 10:
Lindbergh: Sale a good bet to succeed

MOST SENT STORIES ON ESPN.COM