Commentary
Bourjos could be difference-maker
L.A.'s outfielder could be MLB's best defender, but he needs to hit to stay on the field
Originally Published:
April 2, 2011
By
Ben Jedlovec
| Baseball Info Solutions
On August 1 of last season, the Los Angeles Angels promoted Peter Bourjos to the majors. Mike Scioscia promptly inserted Bourjos into the starting lineup in center field, shifting nine-time Gold Glove recipient Torii Hunter from the only position he has known for the past decade.
It didn't take long, however, for Bourjos to justify the decision. In his second game, he threw out Luke Scott trying to go from first to third on a single. By the end of the week, he was making his way onto highlight reels, and within a month he was a regular on Web Gems lists.
During his two months in the majors, Bourjos saved an estimated 15 runs with his defense, according to Baseball Info Solutions (BIS) and the Runs Saved system. This total ranked third among all center fielders last season, despite the fact that Bourjos didn't even play a third of a season.
He also made 24 Good Fielding Plays (GFP) as tracked by BIS Video Scouts, meaning he made two dozen Web Gem-type plays that you wouldn't expect an average fielder to make. That number easily led all outfielders from August 1 on. Included in those 24 GFP are two home run robberies, in which he snatched a home run from over the outfield fence and turned it into a fly out.
Bourjos did it all last year. He rated well on deep-hit balls, and he also made diving plays on shallow line drives in front of him. He accumulated 10 outfield assists in those two months; the full-season league leader, Adam Jones with 12, had a four-month head start.
This defensive prowess is why Bourjos can be a real difference-maker for the Angels this season, as he has the potential to be the best defensive player the league has seen in several years. But whether he can hit well enough will ultimately determine whether the team can keep him and his runs-saving defensive ability on the field.
To read Ben Jedlovec's full take on Peter Bourjos, become an ESPN Insider.
ESPN The Magazine subscribers

Need more information?
Researcher for Baseball Info Solutions
Co-authored The Fielding Bible, Vol. III
SPONSORED HEADLINES
MORE MLB HEADLINES
MOST SENT STORIES ON ESPN.COM
Insider MLB Content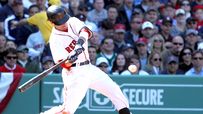 WEEK OF OCT. 30
Nov. 5:
Bowden: Grading the Jim Thome deal
Nov. 5:
Law: Thome, Phillies aren't a great fit
Nov. 4:
Bowden: Pricing the free agents
Nov. 3:
Law: Ranking top 50 MLB free agents
Nov. 2:
Jedlovec: Worst Gold Glove selections
Nov. 1:
Meyers: Buyer beware of C.J. Wilson
Oct. 31:
Cameron: Papi a fit in the Bronx
Oct. 30:
Perry: Finding free agency solutions
Oct. 30:
Szymborski: St. Louis without Pujols
WEEK OF OCT. 16
Oct. 28:
Law: Chapman still needs work
Oct. 26:
BP: Batter-pitcher data is overrated
Oct. 24:
FanGraphs: A blueprint for C.J. Wilson
Oct. 21:
Cameron: Cards should bench Berkman
Oct. 20:
BP: Why did Washington walk Punto?
Oct. 19:
Szymborski: Sims favor the Rangers
Oct. 18:
Bowden: Ranking all 50 WS players
Oct. 18:
Jedlovec: Previewing WS defenses
Oct. 17:
Perry: World Series hinges on relief
Oct. 16:
Szymborski: Milwaukee without Fielder
Oct. 16:
FanGraphs: Brewers' NLCS miscues
KISS 'EM GOODBYE
Oct. 30:
St. Louis Cardinals
Oct. 29:
Texas Rangers
Oct. 18:
Milwaukee Brewers
Oct. 17:
Detroit Tigers
Oct. 8:
Arizona Diamondbacks
Oct. 8:
Philadelphia Phillies
Oct. 7:
New York Yankees
Oct. 5:
Tampa Bay Rays
Sept. 29:
Atlanta Braves
Sept. 29:
Boston Red Sox
Sept. 27:
Los Angeles Angels
Sept. 26:
San Francisco Giants
Sept. 25:
Cleveland Indians
Sept. 24:
Chicago White Sox
Sept. 23:
Oakland A's
Sept. 22:
Los Angeles Dodgers
Sept. 21:
Colorado Rockies
Sept. 20:
Toronto Blue Jays
Sept. 19:
Cincinnati Reds
Sept. 18:
San Diego Padres
Sept. 17:
Pittsburgh Pirates
Sept. 16:
Kansas City Royals
Sept. 15:
Minnesota Twins
Sept. 14:
New York Mets
Sept. 13:
Washington Nationals
Sept. 12:
Seattle Mariners
Sept. 11:
Chicago Cubs
Sept. 10:
Baltimore Orioles
Sept. 9:
Florida Marlins
Sept. 8:
Houston Astros
ESSENTIAL LINKS