Commentary
Domonic Brown injury just slight delay
BP spotlights 10 prospects whose spring performances have fans and GMs encouraged
Updated:
March 7, 2011, 2:07 PM ET
By
Kevin Goldstein
| Baseball Prospectus
The first week of spring training games can be frustrating for more casual fans, with few television broadcasts, only brief views of the veterans and lots of high uniform numbers. For prospect watchers, however, this is the golden hour, as young players are rewarded for their prospect status by playing with the big leaguers, while others take their first steps in legitimately competing for jobs. After just a handful of games, here are 10 players that are catching teams, scouts and even fans' eyes.

To call Brown's brief spring training an up-and-down affair doesn't really do it justice. The departure of Jason Werth via free agency seemed to hand right-field duties to Brown, but Phillies officials were cautious in the offseason, insisting that Brown would battle Ben Francisco for the job. Charlie Manuel seemed more optimistic early in camp, but a 0-for-15 start to his spring with nine strikeouts moved the needle toward the negative once again.
It all became moot Saturday when Brown finally got a hit but also injured his hand, with initial examinations indicating hamate bone surgery is in his immediate future. That will leave him out until late April, at the earliest, and he'll likely have to prove himself fully healthy at Triple-A before getting another big league look. This is just a delay; he's still the long-term solution at the position and a potential All-Star.
To read the rest of Kevin Goldstein's list of promising prospect performances from this spring, you must be an ESPN Insider.
ESPN The Magazine subscribers

Need more information?
SPONSORED HEADLINES
MORE MLB HEADLINES
MOST SENT STORIES ON ESPN.COM
Insider MLB Content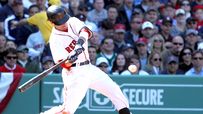 WEEK OF OCT. 30
Nov. 5:
Bowden: Grading the Jim Thome deal
Nov. 5:
Law: Thome, Phillies aren't a great fit
Nov. 4:
Bowden: Pricing the free agents
Nov. 3:
Law: Ranking top 50 MLB free agents
Nov. 2:
Jedlovec: Worst Gold Glove selections
Nov. 1:
Meyers: Buyer beware of C.J. Wilson
Oct. 31:
Cameron: Papi a fit in the Bronx
Oct. 30:
Perry: Finding free agency solutions
Oct. 30:
Szymborski: St. Louis without Pujols
WEEK OF OCT. 16
Oct. 28:
Law: Chapman still needs work
Oct. 26:
BP: Batter-pitcher data is overrated
Oct. 24:
FanGraphs: A blueprint for C.J. Wilson
Oct. 21:
Cameron: Cards should bench Berkman
Oct. 20:
BP: Why did Washington walk Punto?
Oct. 19:
Szymborski: Sims favor the Rangers
Oct. 18:
Bowden: Ranking all 50 WS players
Oct. 18:
Jedlovec: Previewing WS defenses
Oct. 17:
Perry: World Series hinges on relief
Oct. 16:
Szymborski: Milwaukee without Fielder
Oct. 16:
FanGraphs: Brewers' NLCS miscues
KISS 'EM GOODBYE
Oct. 30:
St. Louis Cardinals
Oct. 29:
Texas Rangers
Oct. 18:
Milwaukee Brewers
Oct. 17:
Detroit Tigers
Oct. 8:
Arizona Diamondbacks
Oct. 8:
Philadelphia Phillies
Oct. 7:
New York Yankees
Oct. 5:
Tampa Bay Rays
Sept. 29:
Atlanta Braves
Sept. 29:
Boston Red Sox
Sept. 27:
Los Angeles Angels
Sept. 26:
San Francisco Giants
Sept. 25:
Cleveland Indians
Sept. 24:
Chicago White Sox
Sept. 23:
Oakland A's
Sept. 22:
Los Angeles Dodgers
Sept. 21:
Colorado Rockies
Sept. 20:
Toronto Blue Jays
Sept. 19:
Cincinnati Reds
Sept. 18:
San Diego Padres
Sept. 17:
Pittsburgh Pirates
Sept. 16:
Kansas City Royals
Sept. 15:
Minnesota Twins
Sept. 14:
New York Mets
Sept. 13:
Washington Nationals
Sept. 12:
Seattle Mariners
Sept. 11:
Chicago Cubs
Sept. 10:
Baltimore Orioles
Sept. 9:
Florida Marlins
Sept. 8:
Houston Astros
ESSENTIAL LINKS