Commentary
Gallardo more than just a pitcher
The Brewers right-hander leads the best hitting staff in baseball
Updated:
March 4, 2011, 10:00 AM ET
By
Dave Cameron
| FanGraphs
The Milwaukee Brewers made two big acquisitions this winter, adding starting pitchers Zack Greinke and Shaun Marcum to their rotation in a bid to contend for the National League Central crown. Most analysis is focused on how well they're going to pitch, but another key question is this: Can they hit? These two should provide a significant upgrade on the mound, and having two quality arms behind Yovani Gallardo in the rotation may give the Brewers the lift they need to get over the hump. However, the chances of the Brewers' success hinges not just on how the new guys pitch, but how well they can adjust to life in the National League, where pitchers also have to bat.
Last season, the Brewers held a huge advantage over the rest of the league in offense produced by their pitchers. Led by Gallardo and his four home runs, the Brewers' pitching staff hit .207/.249/.280, or just a little bit worse than the worst-hitting regular position player in baseball last year, Cesar Izturis. Being less productive offensively than Izturis is rarely a compliment, but when compared to the futility of other pitchers, Milwaukee's performance looks positively Ruthian.
If you exclude the Brewers, the average line put up by an NL pitcher was just .137/.170/.167. Milwaukee trounced that, and its Weighted On Base Average of .239 was 83 points higher than the .156 wOBA of its competitors. With each team's pitchers accounting for about 350 trips to the plate, the differences can really begin to add up. Greinke and Marcum are coming over from the American League, so we don't know how they handle the stick. If they hit like typical pitchers, as opposed other Brewers pitchers, then Milwaukee stands to lose a decent amount of production on offense.
Below are the best and worst offensive performances from pitchers among NL teams in 2010. wRAA is Weighted Runs Above Average (or in this case, below average, since each team is in the negative compared to a league average hitting position player). Believe it or not, having a staff of good hitting pitchers can make an enormous difference.
To find out just how valuable a good group of hitting pitchers can be, you must be an ESPN Insider.
ESPN The Magazine subscribers

Need more information?
Managing editor of FanGraphs
Founder of U.S.S. Mariner
Also contributes to Wall Street Journal
SPONSORED HEADLINES
MORE MLB HEADLINES
MOST SENT STORIES ON ESPN.COM
Insider MLB Content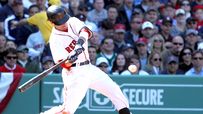 WEEK OF OCT. 30
Nov. 5:
Bowden: Grading the Jim Thome deal
Nov. 5:
Law: Thome, Phillies aren't a great fit
Nov. 4:
Bowden: Pricing the free agents
Nov. 3:
Law: Ranking top 50 MLB free agents
Nov. 2:
Jedlovec: Worst Gold Glove selections
Nov. 1:
Meyers: Buyer beware of C.J. Wilson
Oct. 31:
Cameron: Papi a fit in the Bronx
Oct. 30:
Perry: Finding free agency solutions
Oct. 30:
Szymborski: St. Louis without Pujols
WEEK OF OCT. 16
Oct. 28:
Law: Chapman still needs work
Oct. 26:
BP: Batter-pitcher data is overrated
Oct. 24:
FanGraphs: A blueprint for C.J. Wilson
Oct. 21:
Cameron: Cards should bench Berkman
Oct. 20:
BP: Why did Washington walk Punto?
Oct. 19:
Szymborski: Sims favor the Rangers
Oct. 18:
Bowden: Ranking all 50 WS players
Oct. 18:
Jedlovec: Previewing WS defenses
Oct. 17:
Perry: World Series hinges on relief
Oct. 16:
Szymborski: Milwaukee without Fielder
Oct. 16:
FanGraphs: Brewers' NLCS miscues
KISS 'EM GOODBYE
Oct. 30:
St. Louis Cardinals
Oct. 29:
Texas Rangers
Oct. 18:
Milwaukee Brewers
Oct. 17:
Detroit Tigers
Oct. 8:
Arizona Diamondbacks
Oct. 8:
Philadelphia Phillies
Oct. 7:
New York Yankees
Oct. 5:
Tampa Bay Rays
Sept. 29:
Atlanta Braves
Sept. 29:
Boston Red Sox
Sept. 27:
Los Angeles Angels
Sept. 26:
San Francisco Giants
Sept. 25:
Cleveland Indians
Sept. 24:
Chicago White Sox
Sept. 23:
Oakland A's
Sept. 22:
Los Angeles Dodgers
Sept. 21:
Colorado Rockies
Sept. 20:
Toronto Blue Jays
Sept. 19:
Cincinnati Reds
Sept. 18:
San Diego Padres
Sept. 17:
Pittsburgh Pirates
Sept. 16:
Kansas City Royals
Sept. 15:
Minnesota Twins
Sept. 14:
New York Mets
Sept. 13:
Washington Nationals
Sept. 12:
Seattle Mariners
Sept. 11:
Chicago Cubs
Sept. 10:
Baltimore Orioles
Sept. 9:
Florida Marlins
Sept. 8:
Houston Astros
ESSENTIAL LINKS