Commentary
The Pujols effect
The superstar slugger had an outsized impact on this week's power rankings
Updated:
April 4, 2012, 6:08 PM ET
By
Paul Swydan
| FanGraphs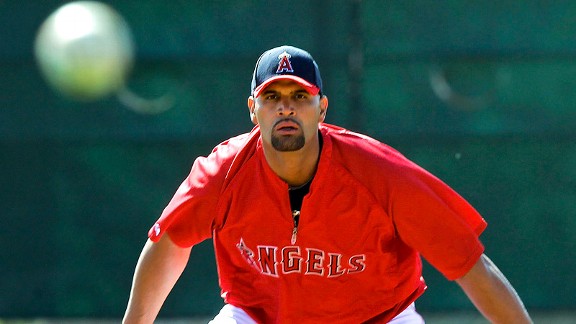 AP Photo/Morry GashAlbert Pujols' move to the Angels will have an impact on MLB this year, but not as big as you think.
Albert Pujols has been at or near the center of the baseball universe for more than a decade, and his leaving the St. Louis Cardinals after their World Series triumph to join the Los Angeles Angels was one of the biggest, if not the biggest, stories of baseball's offseason.
But as good as Pujols is -- and he is very, very, very good -- he is only one man, and one player can have only so much impact on a team's win total. However, you wouldn't know that from looking at the Week 1 MLB Power Rankings, where the Angels come in much higher than they should have (No. 3) and the Cardinals come in a bit lower than they deserve (No. 9).
To continue reading this article you must be an Insider
Insider
Writer for FanGraphs
Editor of Hardball Times annual
Spring Fever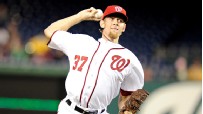 Stephen Strasburg is at the center of any conversation about the 2012 season ... and beyond.
Future Power Rankings
Buster, Bowden and Law break down how well your team is set up for the future.
Part 1: No. 30-21
Part 2: No. 20-11
Part 3: No. 10-1
Audio: Shocks and surprises
Future Power Rankings methodology
Keith Law's top prospects
Features
March 30:
Szymborski: AL standings
|
NL
March 29:
BP: Four fading Phillies
March 27:
Szymborski: Five non-flukes
March 26:
Cameron: Top 500's underachievers
March 23:
Cameron: Will Strasburg be the same?
March 22:
BP: Smoak underrated by Safeco
March 21:
Szymborski: The next Bautista
March 19:
Cameron: Controlling Bryce's price
March 15:
Goldstein: Prospects making waves
March 15:
BP: Who's starting the wrong guy?
March 12:
Cameron: Tribe's nasty rotation
March 10:
Lindbergh: Sale a good bet to succeed

MOST SENT STORIES ON ESPN.COM