Commentary
BP: The umpires' World Series role
Look for Burnett vs. Martinez in Game 2 to swing heavily based on ball-strike calls
Originally Published:
October 27, 2009
By
Eric Seidman
| Baseball Prospectus
In a postseason featuring late-inning heroics and a few coming-out parties for talented players like Carlos Gonzalez, the actual game play has taken a backseat to shoddy umpiring. Instead of fans marveling at the dominant pitching performances from CC Sabathia and Cliff Lee, they have been left wondering such things as how a play in which two runners were tagged while not standing on the base could result in only one out. Aside from your typical run-of-the-mill mistakes, the umpiring crews have blown calls in crucial situations; even worse, the crews have shown an inability to rectify mistakes made by individual members.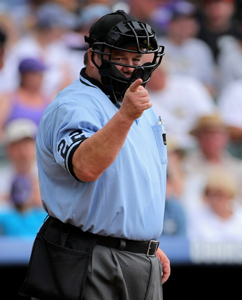 Getty ImagesIf you know this man's name (Joe West) well at the end of the World Series, that's likely not a good thing.
In an attempt to eradicate this issue and shift the focus back to whether or not the Philadelphia Phillies can defend last year's title, Major League Baseball has decided that only veteran umpires will call the Fall Classic. The six chosen men in blue -- Gerry Davis (who will be behind the plate for Game 1), Joe West, Brian Gorman, Mike Everitt, Jeff Nelson and Dana DeMuth -- will certainly have their work cut out for them, but how will the selection of these umpires affect the potential World Series hurlers?
To learn more about which specific matchups in Phillies versus Yankees may be influenced by the umpires, you must be an ESPN Insider.
Insider

MOST SENT STORIES ON ESPN.COM